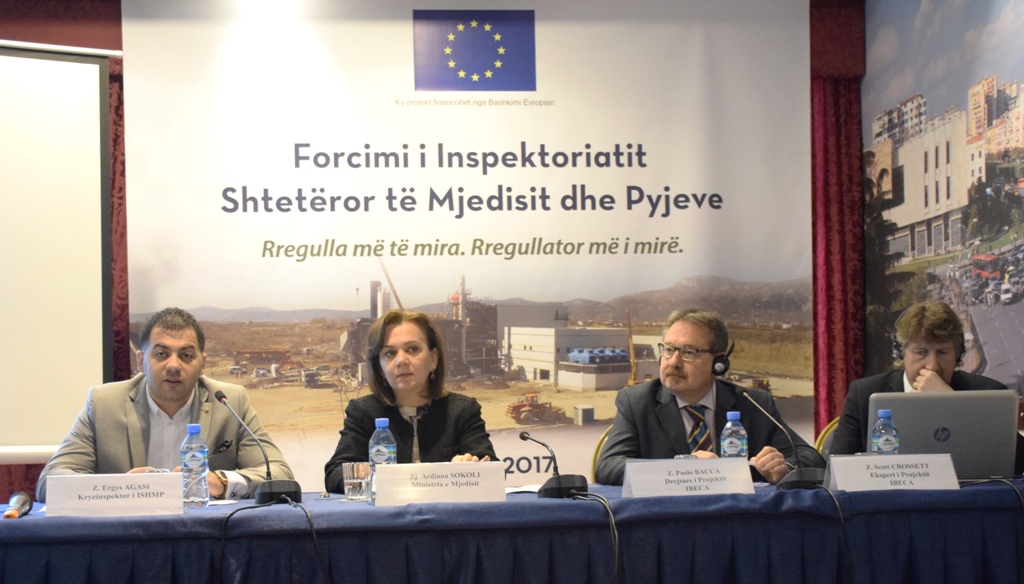 EU technical expertise shared with the State Inspectorate for Environment and Forestry
Operational procedures and monitoring standards for environmental inspection have been reforming over the last year EU technical experts and representatives from the State Inspectorate for Environment and Forestry (SIEF) presented today a new vision for this institution.
After a one-year programme of capacity building there are now new environmental inspection and permitting procedures proposed – in accordance with EU requirements.
At the event, IBECA project team leader Paolo Bacca said: "The overall goal of providing assistance to the SIEF was securing efficient authority to detect and prosecute cases of non-compliance for regulated installations or activities".
Whereas the director of the State Inspectorate for Environment and Forestry, Ergys Agasi, mentioned the various instruments made available in the course of the past year: "With our (SIEF) request IBECA project experts and our inspectors worked together to create a new method of riskbased inspection for installations requiring environmental permit. This method enables the evaluation of environmental risks when the right conditions are not implemented".
One of the main EU experts who worked with the SIEF, Scott Crossett described the new proposed procedures that are now awaiting formal approval regarding permit, administration, inspection and monitoring of activities that might have an effect on environment and climate change.
"We have made some progress over the last 12 months. We still however need radical and fundamental reform of key pieces of legislation on inspection and permitting. The State Inspectorate for Environment and Forestry and the National Environmental Agency are in urgent need for human and financial resources. The Government of Albania must demonstrate that it is genuinely serious about the environment by making these two issues a priority", said the EU expert.
Other experts presented the new 'risk-based' model of operation and the EU-approved checklists that from now will be used when inspecting and monitoring businesses or institutions such as hospitals.
Inspection can now be done through an annually accumulated point-based system that evaluates a certain activity or business in terms of environmental compliance; environmental management, the number of complaints from third parties or community, and any reported incidents.
The more points, the higher the risk posed by this activity or business, and this means stricter permit management by the SIEF, administering of fines, and other measures. Over the past year a EU-funded package of technical assistance was provided to SIEF through the project IBECA – Institution Building for Environment and Climate Acquis.
It included a programme of vocational learning for all SIEF inspectors, good working practices, IT solutions and procedures for the daily work of inspectors, and increased exchanges and coordination with other institutions in charge of environment including the Ministry, the National Environmental Agency and Regional Environmental Agencies.