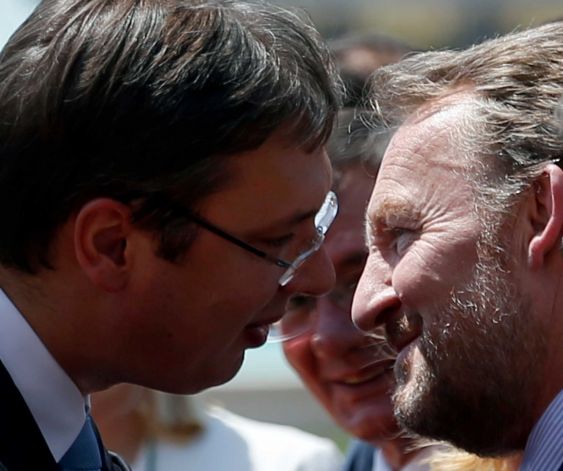 Belgrade, July 22, 2015/ Independent Balkan News Agency
By Milos Mitrovic
A relaxing tone has marked today's visit of the tripartite Bosnian Presidency to Belgrade, ten days after Serbian Prime Minister Aleksandar Vucic was attacked at the massacre commemoration in Srebrenica.
At the media conference with Bakir Izetbegovic, ethnic Bosniaq Presidency member, Dragan Covic (Croat member) and Mladen Ivanic (Serb member), Vucic said that a new chapter in bilateral relations has been opened. Covic noticed that "completely different" issues were at the Belgrade meeting's agenda, shortly after Srebrenica incident; Izetbegovic stressed that all war crimes should be processed.
In September governments of Serbia and Bosnia will hold a joint session, while Serbian President Tomislav Nikolic will visit Sarajevo "early in fall", Vucic announced.
He stressed that Serbia wants the best possible relations with Bosnia-Herzegovina.
"My message to Bakir Izetbegovic and Dragan Covic – and the same is obviously for Mladen Ivanic – is that this is their house, they are always welcome and they should feel like at home. We will always show our warmness", Vucic elaborated.
Serbian PM mentioned that infrastructure, energy, tourism and defence industry were the issued discussed.
He reiterated that the situation in the region is "very fragile", and that "a lot of energy is needed" in order to preserve the stability. There's no better answer (to instability) than creating the higher degree of confidence among Serbs, Bosniaqs and Croats, Vucic added.
Vucic has "forgotten" – as he said – the assault he was exposed to in Srebrenica on July 11; if those people who lost their relatives in 1990s wars are ready to forgive and to look into the future, it would be ridiculous for him to have a different look on Srebrenica incident, the premier explained.
"My perspective is directed towards the future and I am thankful to Bakir for this… He feels and sees that there's no any hostility from my side and I certainly don't consider him to be a bad man or enemy, on the contrary", Vucic said.
Earlier this week Vucic admitted he was not willing to answer to Izetbegovic's phone calls following the incident. As he explained, Izetbegovic has personally guaranteed him safety at the Srebrenica commemoration, but after the attack he denied his responsibility.
In the meantime, Vucic decided to "forget" what happened and give up from "vanity", while Izetbegovic rebuffed claims which have suggested that "his people" had organized the attack against Vucic.
The history of Serbia and Bosnia should be tackled by historians, while the representatives of the governments have to turn to the future and improve the cooperation at the highest level possible, Dragan Covic said. In his words, Western Balkans conference in Vienna on August 27 would be very important in this regard.
Each war crime, regardless of who and against who committed it, remains war crime, Bakir Izetbegovic said. He recalled that during the war Sarajevo was able to stop crimes against Serbs despite, as he said, every third Sarajevo citizen was wounded, while every tenth was killed.
"The fact that we had stopped what some rebel commander were doing against the Serbs is proof that we have not been a side which has systematically encouraging the crimes", Izetbegovic emphasised.
When asked to comment on the release of those suspected for the attack against Vucic, as well as letting Naser Oric go free, the Muslim war commander blamed by Serbia for the war crimes, Izetbegovic said the "judiciary should be trusted". The process against Oric will continue, he promised.
The stability in Bosnia is in the interest of Bosnian Serbs who strive to become EU citizens alongside with Bosnian Muslims and Croats, Mladen Ivanic said. He refrained from commenting statement by Republic of Srpska (RS) President Milorad Dodik who accused him for "treason". Ivanic explained that he does not believe Belgrade is the place for "political battle" between Serbs from RS.