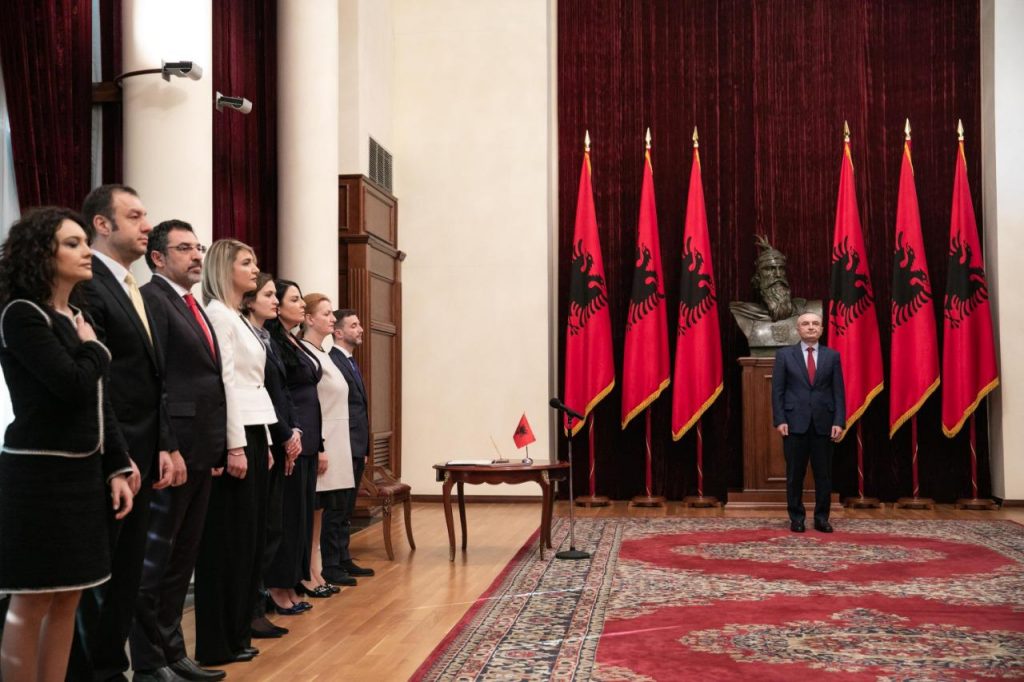 President of Republic has not yet signed the decision to dismiss Foreign Minister Ditmir Bushati and to nominate Rama in his place
Deputy Prime Minister Braçe and the other new government members swore yesterday in front of the President of Republic. The ceremony took place in the presence of deputy speaker of Parliament, Vasilika Hysi and members of the President's Cabinet. The new members are deputy Prime Minister Erion Braçe and ministers Anila Denaj, Belinda Balluku, Besa Shahini, Elva Margariti, Bledar Çuçi, Eduard Shalsi and Elisa Spiropali.
The deputy Prime Minister and ministers swore in front of President Ilir Meta with their hand on the Constitution of Albania, after the execution of the national anthem, the reading of the respective decrees and the solemn oath.
What caught the eye in this ceremony was the absence of PM Edi Rama, who has requested the president to dismiss the minister for Europe and Foreign Affairs, Ditmir Bushati by nominating himself in this post.
The fate of the chief of the Albanian diplomacy still remains unclear. PM Rama said that he would be in charge of this task when he declared that he would be a de jure Foreign minister. According to many analysts, this means that current vice Foreign minister, Cakaj, whose nomination as Foreign minister was rejected by president Meta, will in fact be a de facto minister for Europe and Foreign Affairs. Under these circumstances, everything remains uncertain.