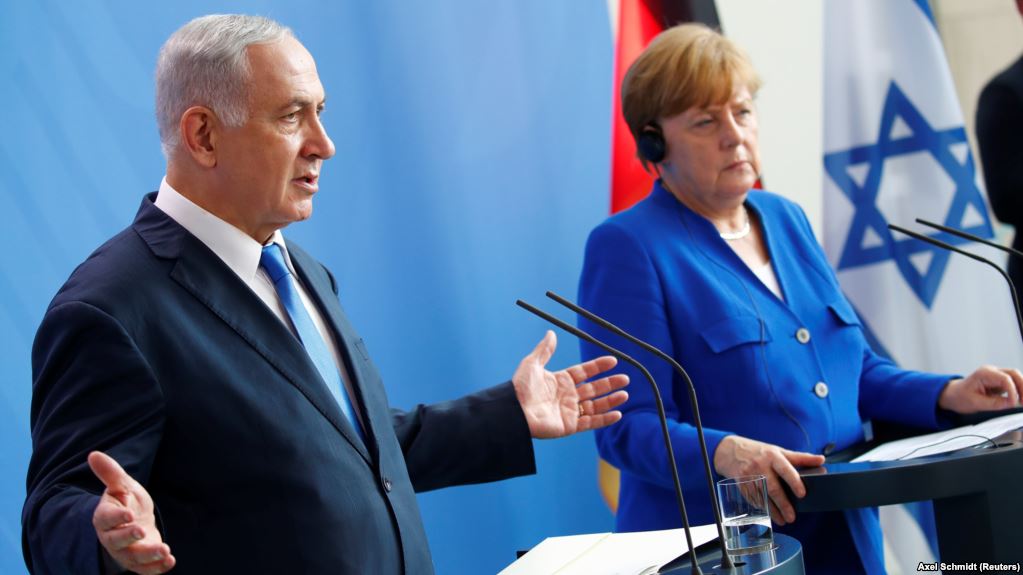 Choosing to speak about this hot potato from one of the strong European capitals, Berlin, the Israeli premier Benjamin Netanyahu connected a religious 'anomaly' in Iran with the effect it could result in, meaning a new wave of refugees, and their (possible) last stop, Europe, where they would flee to.
The Israeli premier is visiting European countries in order to "persuade" them as the international Reuters news agency notes, to follow Washington's example "in tearing up a nuclear non-proliferation deal with Iran"
At a joint presser with the German Chancellor, Angela Merkel, after they concluded their talks on Monday, Netanyahu said that Tehran is "using proceeds from eased sanctions to finance conflict.
Iran wanted to expand and deploy Shi'ite militias it commanded to convert Muslims from the Sunni branch of Islam". He is of the opinion that "Iran's activities across the Middle East threaten to drive another wave of refugees to Europe", as Reuters wrote.
"This will inflame a religious war, and the consequences will be many more refugees and you know exactly where they'll come", Netanyahu stressed.
The truth is that Europe, its south especially, keeps struggling with the soaring numbers of refugees who began arriving in 2015, mainly due to the Syrian armed conflict and have not stopped crossing from Turkey or northern Africa to European states of the bloc's south.
Another such wave from a massive country like Iran could prove way more arduous and hard to tackle and would surely cause further political upheaval among the Union's member states.
As far as Syria is concerned, Iran role's there is crucial as it is a top military ally of President Bashar al-Assad fighting the rebels most of whom are Sunni.
The German  Chancellor agreed that Tehran's activities in the Middle East do pose a threat and are being monitored. However, she pointed out that "talks and the nuclear agreement torn up by the United States offered ways of thwarting Iran's nuclear and regional ambitions".
Merkel said that Germany supports "Israel's right to security and have said this to Iran at all times (…) We have the same goal that Iran must never get a nuclear weapon and the difference between us is how to do that."…. / IBNA