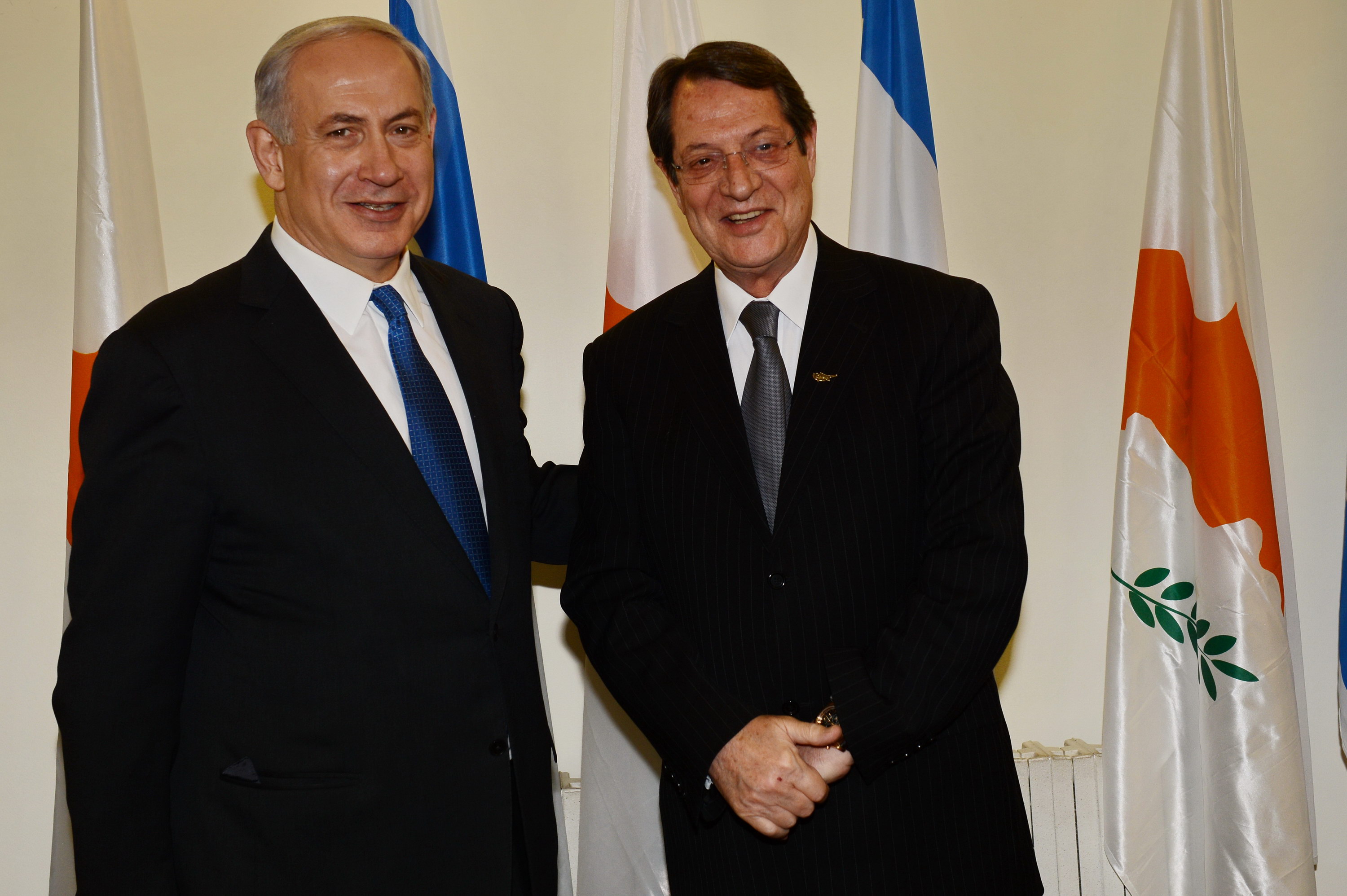 Nicosia, June 15, 2015/ Independent Balkan News Agency
By Kyriacos Kyriacou
The forthcoming Trilateral Meeting of Cyprus, Greece and Israel, international issues, the Cyprus problem, energy issues and the enhancement and upgrading of the bilateral relations of Cyprus and Israel will be at the focus of the meetings Cyprus President Nicos Anastasiades will have on Monday in Israel, where he is paying a one-day official visit.
President Anastasiades will have meetings with Prime Minister Benjamin Netanyahu, with the President Reuven Rivlin and with the leader of the main opposition Yitzhak Herzog.
The President is accompanied by a delegation comprising Minister of Foreign Affairs Ioannis Kasoulides, Minister of Energy, Commerce, Industry and Tourism Yiorgos Lakkotrypis,  Government Spokesman Nikos Christodoulides, and other government officials.
On Sunday evening, Anastasiades had a meeting in Jerusalem with the owner and chairman of Israeli company Delek Yitshak Tshuva. According to information, development and production plans concerning "Aphrodite" gas field in Cyprus` Exclusive Economic Zone (EEZ) as well as Delek`s interest in raising its share in block 12 of Cyprus` EEZ were discussed during the meeting, attended also by Kasoulides, Lakkotrypis and Christodoulides,
According to the programme of Anastasiades` visit, in the morning he will be officially welcomed at the Presidential Residence by the Pesident of Israel Reuven Rivlin. After the welcoming ceremony and the meeting with Rivlin, Anastasiades will have a meeting at his hotel with the leader of the opposition.
Later on he will meet with Prime Minister Netanyahu in his office. Anastasiades and Netanyahu will make statements to the press.
In the afternoon, accompanied by his spouse Andri, Anastasiades will lay a wreath at the Grave of Theodore Herzi.
In the evening, President Anastasiades and the members of the Cyprus delegation will participate in an official dinner hosted by the President of Israel in honor of the President of the Republic.
On the sidelines of the official visit of the President of the Republic, the Minister of Foreign Affairs and the Minister of Energy will have a joint meeting with the Minister of National Infrastructure, Energy and Water Resources of Israel Yuval Steinitz.
The Minister of Foreign Affairs will also have a meeting with the Deputy Minister of Foreign Affairs of Israel Tzipi Hotoveli, whereas Minister Lakkotrypis will meet with the Minister of Tourism of Israel Yariv Levin.
The President and the Cyprus delegation will return to Cyprus on June 16.