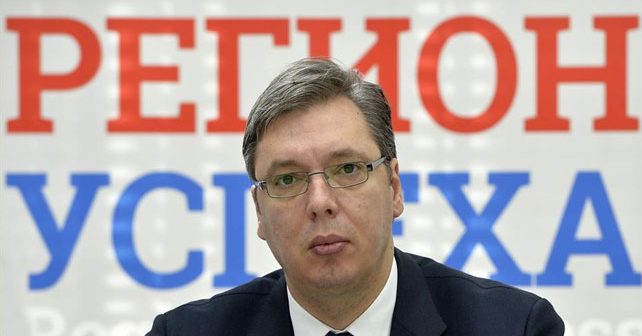 Predsednik Srbije Aleksandar Vučić izjavio je danas da mu je na sastanku sa savetnicima nemačke kancelarke Angele Merkel, Janom Hekerom i Matijasom Litenbergom rečeno da se od Srbije očekuje uzdržanost, ali nije želeo da iznosi više detalja. "Potvrdio sam da će Srbija delovati staloženo i biti uzdržana koliko god je to moguće", rekao je Vučić za televiziju Prva.
Vučić je kazao da posle posete nemačkih zvaničnika očekuje da se izvrši dodatni pritisak na Prištinu da ukine takse, ali je i dodao da ne veruje da će se to desiti brzo. Vučić je istakao da mu "ne pada na pamet" da razmatra platformu za dijalog koju je kosovski parlament usvojio prošle nedelje.
"Ne pada mi na pamet da u skladu sa njihovim uslovima bilo šta razmatramo. To nikakvog smisla nema, niti je to moguće", kazao je Vučić.
On je rekao da su takse od 100 odsto koje su uvedene na srpsku robu bile težak udarac za Srbiju, koja zbog toga "godišnje gubi 500 miliona evra".
"Prvo Zajednica srpskih opština nije ispunjena 2.155 dana, drugo uvodili su nam takse, neću da pričam o svim incidentima – hapšenju Marka Djurića, dolasku na sever, vozikanju po Gazivodama, svim pritiscima na Srbe, hapšenje Bogdana Mitrovića i držanje u zatvoru šest meseci, onda dolazite do taksi i zatim platforme", kazao je Vučić.
Vučić je razgovarao u Beogradu sa prvim savetnikom nemačke kancelarke za spoljnu politiku Janom Hekerom i savetnikom za pitanja Balkana Matijasom Litenbergom. Heker i Litenberg su u ponedeljak boravili u Prištini gde su sa tamošnjim zvaničnicama razgovarali o dijalogu sa Beogradom.