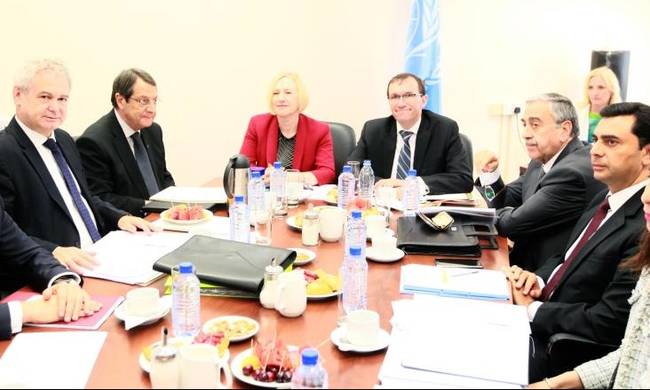 Negotiators of the two communities in Cyprus Andreas Mavroyiannis and Ozdil Nami will meet on Tuesday to discuss issues concerning the chapters of governance and the property issue, CNA has learned.
The two negotiators will also prepare a meeting Cyprus President Nicos Anastasiades and Turkish Cypriot leader Mustafa Akinci will have on Wednesday in the framework of the UN-led negotiations on the Cyprus problem. This will be the first meeting of the leaders in 2017.
Government Spokesman Nikos Christodoulides said in statements he made on Monday that the Greek Cypriot side intensifies preparations ahead of the Geneva meetings on Cyprus.
Noting that preparations are made on three levels, the Spokesman said the first level concerns the meetings that will take place in Nicosia ahead of Geneva.
He added that the second level relates to the meetings that will take place in Geneva on January 9-11, when the two sides will be discussing the internal aspects of the Cyprus problem and will present maps.
The third level, which he described as the most crucial, concerns the chapter of Security and Guarantees and will begin on January 12 with the Conference on Cyprus, in the presence of the three guarantor powers (Greece, Turkey and the UK) as well as other relevant parties, as needed.
Cyprus has been divided since 1974, when Turkish troops invaded and occupied 37% of its territory. Anastasiades and Akinci have been engaged in UN-led talks since May 2015 with a view to reunite the island under a federal roof./IBNA
Source: Cyprus News Agency