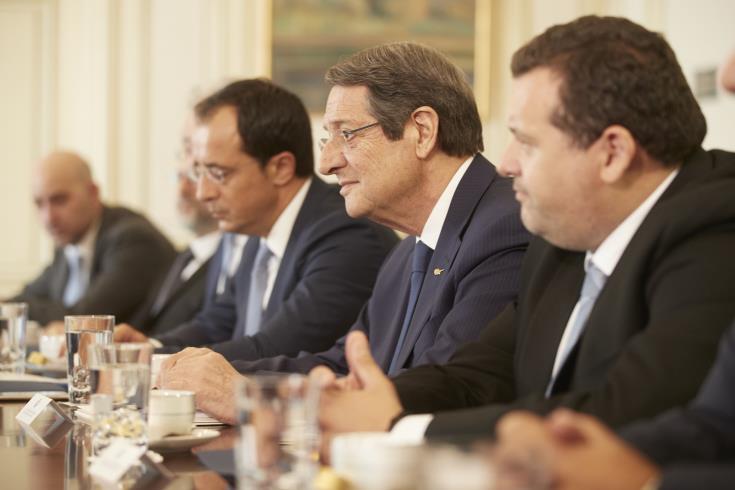 The audacity of Turkey has now passed the limits of a transient transgression
By Michalis Michael
It is impossible to negotiate on the Cyprus issue, under the threat of gunships and the presence of Turkish drilling rigs in the Cypriot EEZ. This was noted by the President of the Republic, Nicos Anastasiades, in an interview with the Greek newspaper "TA NEA". At the same time, Anastasiades leaves open the possibility of appealing to the UN Security Council on the Famagusta issue and stresses that the initiative for a trilateral meeting on the Cyprus issue is now with the UN Secretary-General.
Anastasiades stresses that the recent statements by the Turkish Foreign Minister are affecting Greek Cypriots and Turkish Cypriots and raise serious concerns. "I hope that everyone, and especially Turkey, will contribute to creating a climate that will allow the UN Secretary-General to convene a new summit on the Cyprus issue", he notes. Concerning whether talks can be held while Turkish drill ships are in the Cypriot EEZ, Anastasiades underlines that this cannot happen and stressed that this is a unanimous position of all political parties. "Unless Turkey's illegal actions come to an end, there is no way to go to negotiations under the threat of gunships and expect that it is possible to have an outcome that is acceptable to both communities".
President Anastasiades calls the issue of Famagusta a provocation, at a time when there is an attempt to create a positive climate. "I do not interpret what is happening as a purely Turkish Cypriot provocation, if there was no encouragement, consent or even dictation from Turkey", he says, adding that the Greek Cypriot side is considering bringing the issue on the Security Council and possibly calling for legal measures under international law.
Asked whether the Republic of Cyprus will seek further sanctions from the EU against Turkey, Anastasiades notes that Turkey's audacity has now crossed the bounds of a transient transgression. "I do not ignore the difficulties either from the European side or from other forces, which despite acknowledging the illegal actions of Turkey, partly due to interests, do not seem to be determined to take such measures that would actually cost Turkey. But we will continue to fight and I hope that at some point the climate will change", he says./ibna