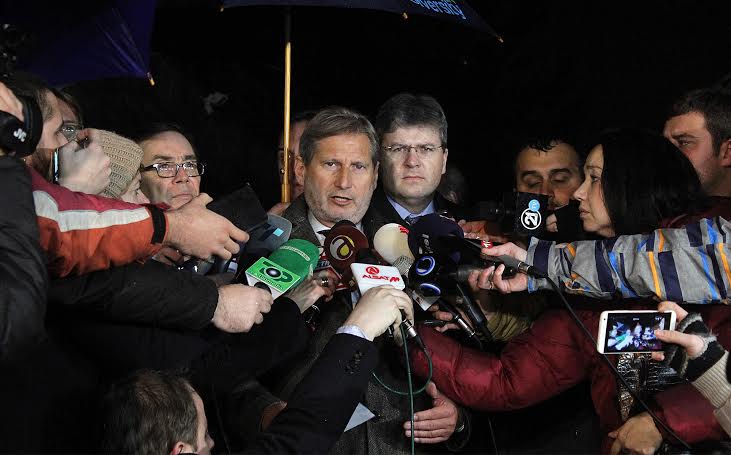 Skopje, 17 January 2016/Independent Balkan News Agency
By Naser Pajaziti
EU Enlargement Commissioner, Johannes Hahn couldn't manage to strike a deal with political leaders in Skopje, even after seven hours of negotiations, in regards to the holding of elections on 24 April, because according to the opposition, the necessary preparations have not been made for these elections to be held.
Hahn has come out of the EU office in Skopje concerned by stressing that he had realized that it's impossible for all political sides to strike a deal.
"At this moment, the state is in a very bad situation", said EU commissioner Hahn, adding that he's hoping that three political parties will comply with the Przino agreement.
Leader of the Macedonian opposition, Zoran Zaev said that the elections remain unacceptable for the Macedonian opposition without the improvement of the state of the media and above all, the cleansing of the voters' list.
"If elections are held on 24 April in these circumstances, we will not participate. On the contrary, we will contoinue to fight for better elections. We will continue to fight for a free Macedonia. Negotiations failed and we will issue more details on due course", Zaev said.
Meanwhile, leader of VMRO-DPMNE and resigned prime minister, Nikola Gruevski blamed the opposition leader, Zaev for the failure of the elections.
"The three political parties agreed on the election date and Zoran was the only one to contest 24 April", declared gruevski after the meeting of the leaders.
According to him, leader of SDSM, Zoran Zaev has his own reasons to postpone the elections.
Gruevski didn't say if the elections will be held on April 24 or not.
Leader of BDI, Ali Ahmeti said that his party asked for the June agreement to be respected and the elections to be held on 24 April.
"In the days to come, I expect the sides to take responsibility", Ahmeti said.
EU Enlargement Commissioner left to Brussels, while there are no details as to when the next round of talks for the solution of the political crisis are expected to be held./ibna/