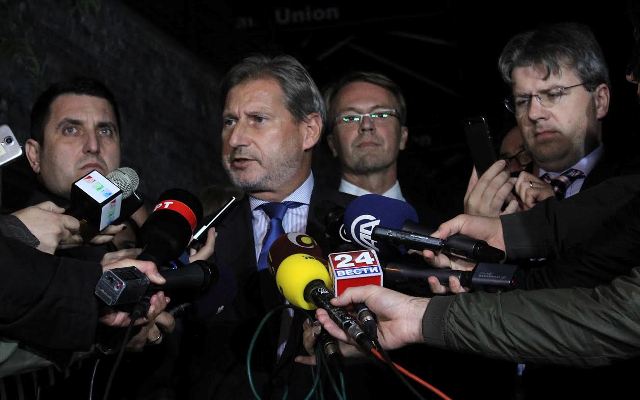 Skopje, 20 October 2015/Independent Balkan News Agency
By Naser Pajaziti
The talks for the implementation of the political agreement in FYR Macedonia held in the presence of EU Enlargement Commissioner, Johannes Hahn have ended without any success.
Until the early hours of the morning, the leaders of the four political parties have managed to agree on pending issues such as the appointment of the new minister of Interior and the minister of Social Affairs, who are proposed by the opposition. What has made the talks even more difficult was the insistence of the party in power, VMRO-DPMNE and Democratic Union for Integration (BDI) for the approval of a bill which forbids the publication of fresh registered materials.
But the opposition led by Zoran Zaev, has objected to this.
"I'm very disappointed that we could not come up with an agreement. I will not be here, but my team will work in order for the agreement to be implemented. There will not be new deadlines", said commissioner Hahn in the early morning hours.
Hahn added that this failure in the talks may be reflected in the process of integration, as the Progress Report is expected to be published in a few days and it's not known if there will be a recommendation for the start of talks with the EU.
VMRO-DPMNE, Ilija Dimovski said that no agreement has been reached and that there are still pending issues.
"I can confirm that we could not strike a final deal, although there was agreement as far as several topics are concerned", declared VMRO-DPMNE lawmaker, Ilija Dimovski.
Dimovski said that work groups will continue their negotiations in the days to come until a deal is reached.
Leader of SDSM (Macedonian Social Democratic Union), Zoran Zaev, said that there hasn't been an agreement and according to him, the government is wasting time on trying to stop the publication of registered materials.
"How is it possible that it's more important for someone to spend 8 or 9 hours on the importance of passing a bill which forbids the publication of registered conversations than the European future of the country. The international community has been a witness of how the talks have been held", Zaev said.
The leaders of the two Albanian political parties, Ali Ahmeti of BDI and Menduh Thaci of PDSH left a few hours before the end of this failed round of negotiations.
Work groups will continue their talks today to find a solution on pending issues, such as the appointment of ministers from the ranks of opposition, the voting of the team of the Special Prosecutor by the Prosecutors' Council, legal framework for the media and other issues, before the country heads to the 24 April 2016 elections. /ibna/