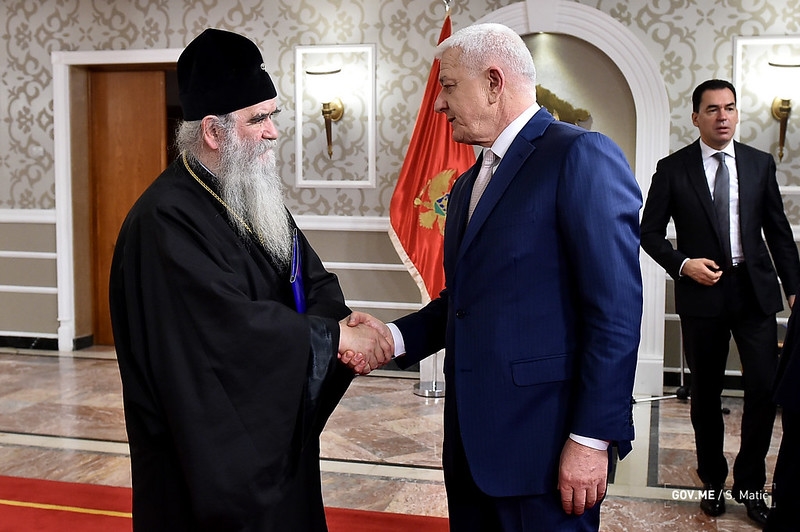 Bishop Amfilohije of the Metropolitanate of Montenegro and the Litoral (MCP) accepted the invitation by Montenegrin Prime Minister Duško Marković to continue negotiations on the Law on Freedom of Religion or Belief and on the Legal Status of Religious Communities. The Prime Minister and the MCP have formed delegations for further talks, and the first meeting will be held on Wednesday, 11 March at the Villa Gorica in Podgorica.
During these talks, the Government will be represented by Zoran Pazin, Deputy Prime Minister; Nebojša Vučinić, Professor at the Faculty of Law; Aneta Spaić, Dean of the Faculty of Law; Dragoljub Bulatović, Head of the Prime Minister's Office; Nikola Martinović and Srdjan Spaić, lawyers.
"It is our understanding that the expert team of the Metropolitanate and the Serbian Orthodox Church (SPC) Diocese you have formed agrees that the first meeting be held at the "Gorica" Villa in Podgorica, on Wednesday, 11 March at 10 am, which we officially confirm", states the Prime Minister in his letter to Bishop Amfilohije (Radovic).
Metropolitan officials report that that Professor Vladimir Leposavić, lawyers Dragan Šoć and Zoran Lazarević and the member of the legal service of the Diocese of Budimlje-Nikšić, Damjan Ćulafić, comprise their delegation.
In a letter to Markovic, Amfilohije states that they were expecting an invitation earlier, as the dialogue will be resuming almost four weeks after the last meeting, which, as he said, is a very long period given circumstances in which Montenegro finds itself currently.
"At the same time, we have a duty to express our concern regarding the fact that the discriminatory law we are about to discuss has already been enforced and that repressive measures against the clergy and monasticism are already being implemented", Amfilohije said.
He also added that the frequent and radically anti-Church public appearances by top state officials, "who unfairly accuse the Church of alleged anti-state activity and of being vulnerable to influences outside Montenegro, which constitute notorious lies", should not be ignored.
"This is not a good climate for dialogue. We hope that for your part, you will do whatever is necessary to prevent the continuation of such pressuring by the state. God knows that the Church does not want or encourage any form of radicalization", Amfilohije notes. /ibna