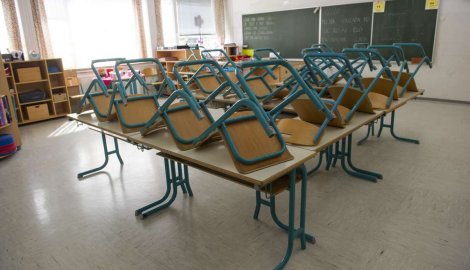 By Adnan Prekic
Negotiations trade Union of Education with the Government to increase the salaries in this sector were aborted. Employees in education are invited to an agreement with the government to increase salaries but the Ministry of Finance said that now the budget has no money for wage increases. The end of negotiations ten days ago were announced by the Prime Minister Milo Đukanovic, who said that no one will get higher salaries, until the state budget is out of the deficit zone . Unionists do not accept such a solution and in the coming days they will announce their future moves.
After a month of negotiations, representatives of the teachers and Ministry of Finance have failed to agree on wage increases for the educators. "Trade Union of Education with a great dissatisfaction stated, that the negotiations with the representatives of the Ministries of Finance and Education to increase the salaries in the education sector are aborted" this statement said the labor organizations. Representatives of trade unions of Education announced that they will subsequently inform employees on how to further proceed with all forms of trade union struggle.
Representatives of teachers demanded salary increase on the grounds that in the last seven years has not been increasing, while the cost of living increased manifold. The union reminded the government to their obligation to negotiate and a serious social dialogue, which is sad in the agreement signed in December 2011, which requires for negotiations on wage increases, if the GDP recorded a growth of over 3.5 percent, which has the Montenegrin Statistical Office confirmed.

Interruption of the dialogue of social partners is likely followed by the statement of Prime Minister Milo Đukanović, he said, that in this moment it irresponsible for an increase of the wages. Trade Union of Education from 15th to 20th August, when it starts working in educational institutions, will inform employees about the suspension of negotiations and try to agree on the further action which include all forms of trade union struggle.
Educators have previously threatened that if the negotiations collapse, when the school year begins from 1st September they will organize a strike. The Montenegrin Government has previously made ​​clear that the requirements of educators are legitimate, but that the budget currently does not have enough money to increase. The government explained that it would be irresponsible in a situation where the state budget is in deficit, to issue a new borrowing, because of rising salaries for teachers.