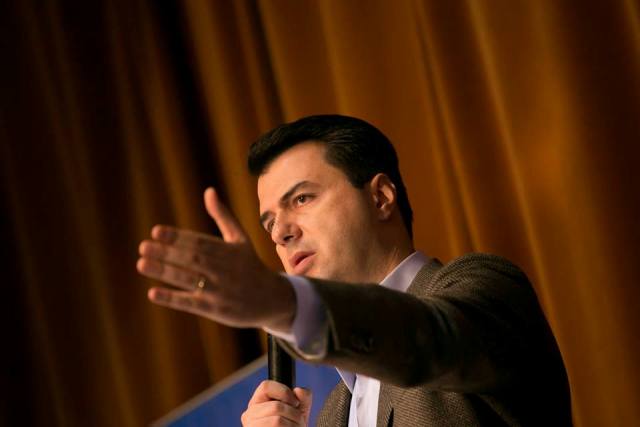 The democrat leader says that the Albanian Pm is covering the country with narcotics, to achieve his political project of winning the elections and remaining in power
Tirana, 1 November 2016/Independent Balkan News Agency
By Edison Kurani
The Albanian opposition seems determined in not participating in the upcoming elections without the fullfillment of two conditions that the democrat leader considered in the recent hours as non negotiable.
"Today, every Albanian is clear that with Edi Rama, the situation is only deteriorating. At the end of his term in office, he cannot count any achievements, therefore he hopes that with the drug money and the blackmail of the underworld, to steal the votes of the people. There cannot be elections with Edi Rama", said Mr. Basha who immediately articulated the non negotiable conditions for the opposition: "There are two conditions which cannot be negotiated: the application of the bill on decriminalization and free and honest elections".
The majority doesn't consider them as conditions, as according to it, they are realizable.
The first one, that on decriminalization, can be considered as  fullfilled, as the bill on this process has been voted in parliament with the consent of both political sides and now it is in the phase of implementation. But Mr. Basha has his doubts on this point. He says that nothing is being done to implement the decriminalization of parliament and other public institutions in the country.
What's more, Mr. Basha expresses his concern that the criminalization of the state is becoming even deeper by the left wing government. "They opened the doors of crime, they had them running for parliament, for mayors, but this was still not enough for them. They appointed them heads of the administration and chiefs of police. The culminating effect of the incrimination of the state is the covering of the entire surface of the country with drugs", Basha says.
According to him, "the covering of the country with narcotic substances is a political project of Edi Rama".
"This man not only didn't keep the promises through which he came in power, but he abandoned them since day one", Mr. Basha says.
As far as the elections are concerned, in his previous appearances, the opposition leader has suggested that the democrats will only participate in the elections if they are free and fair.
For Basha and other opposition officials, in order for the elections to be free, the Prime Minister should leave.
In the recent months, Basha has requested several times for a technical government to be created in order to prepare the 2017 elections.
In his recent appearance, Mr. Basha no longer talks about an interim government. However, he considers the free and fair elections as a non negotiable condition. /balkaneu.com/