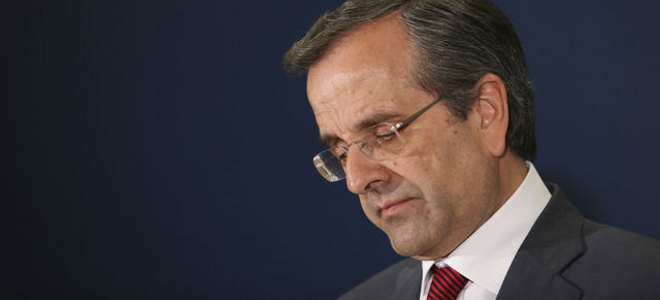 Athens, May 28, 2015/ Independent Balkan News Agency
By Spiros Sideris
The "ten days – fire" that has started from Monday does not only concern the government and lenders with respect to reaching an agreement, but also ND, since now in the main opposition party they have started the countdown of the time when the leadership of Antonis Samaras will be openly and officially challenged.
The intra-party processes are intensifying, signatures are being collected and the most "blue" converge to the conclusion that when the apparent agreement of between Athens and creditors is reach, will open the intraparty dispute in ND
Clusters vs Samara
Moreover, the main cruise "poles" of the internal party opposition, namely Dora Bakoyannis and Nikos Dendias, speak most on a daily against basis against Antonis Samaras, showing their intentions for a "hot" summer. Especially Dora Bakoyannis, beyond the open line of communication she retains by Dendias, has now acquired, according to reports, a trusting relationship with Kostas Karamanlis, while this good relationship was reflected by many in the ND Tuesday, at the panel of the event organized by the "blue" GOP for developments in the center-right. Among the speakers in this panel are included Dora Bakoyannis and her daily interlocutor Kostas Karamanlis, Evangelo. Antonaros, while both top "blue" members have formally requested to open dialogue and discussion within the party.
"We need to see what went wrong. It's survival condition for New Democracy and repositioning, and change" stressed the Dora. Bakoyannis, adding a sense that "everything must change." Meanwhile, former Minister "warned" the leadership of the party that many in ND "will not allow" Samara to avoid a debate. "No conference between us would applaud. The issue for the ND to open dialogue. If it does, the path is specified; we will not allow it. We will seek to make this dialogue", Bakoyannis said, asking, in essence, to lead the party into an extraordinary congress.
Ev. Antonaros: "We can not deny the Agreement"
Along the same lines was also the warning of former government spokesman Antonaros, warning, indeed, the Ant. That ND Samaras "Can not refuse to support even a modest deal in ensuring that their stay in the euro." "Can ND refuse agreement of the Government SYRIZA – AN.ELL., The Syngrou denounced as anti-Europeans by Europeans? They think some that we can say no? They understand the paradox of this behavior?" wondered, while compared to party matters backdrop, stressed that "we must make the debate in the Parliamentary Group and the Central Committee. At the same time, Antonaros also "deconstructed" the goals of the party's leadership for a "pro-European front", wondering how this could happen "with political forces that are solely responsible for making the first Memorandum." "No to transfers from the ideological space of the extreme right, not with lame horses from unclaimed other sites" came the "blue" strain, who also asked to open the intraparty debate on the causes of defeat.