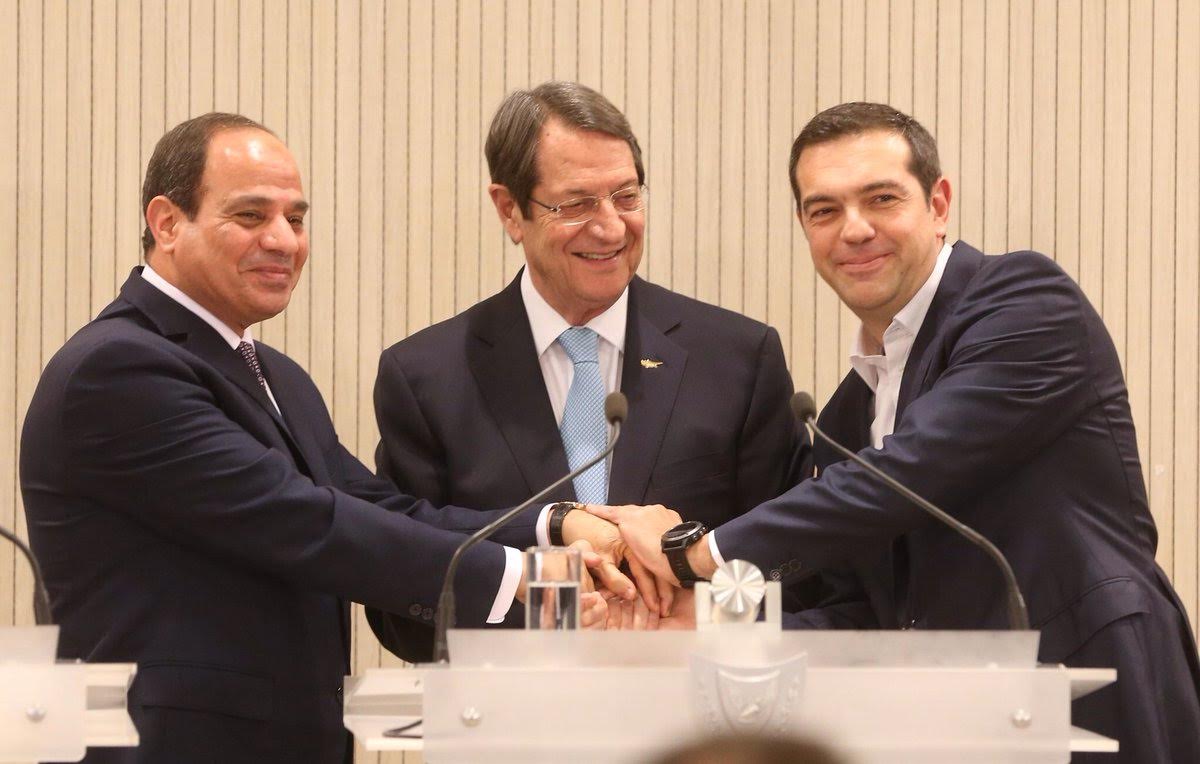 In less than a month, the Foreign Minister of the Republic of Cyprus, Nikos Christodoulides is visiting Cairo, after a formal invitation by his Egyptian counterpart, Sameh Shoukry.
The trilateral cooperation between Cyprus and Greece and Egypt is expected to top the agenda of the talks, along with regional issues such as security, developments in Syria and Palestine and the fight against terrorism.
Citing the Egyptian newspaper "Egypt Today," the MENA news agency reads that the two men are expected to discuss the "unique relations" between Cairo and Nicosia, as well as "ways of further promoting them in various fields".
Unfortunately, ever since 2014 and the signing of the first tripartite agreement at political level, very little progress has been made due to Turkish provocations.
Back then and through the Memorandum of Co-operation, the Egyptian, Cypriot and Greek leaders Abdel-Fattah Al-Sisi, Nikos Anastasiades and Antonis Samaras had pointed out the importance of the discovery of major natural gas fields and called on Turkey to respect International Law.
"We recognize that the discovery of important hydrocarbon reserves in the Eastern Mediterranean can serve as a catalyst for regional cooperation. We stress that this cooperation would be better served through the adherence by the countries of the region to well established principles of international Law. In this respect, we emphasize the universal character of the UN Convention on the Law of the Sea (UNCLOS), and decide to proceed expeditiously with our negotiations on the delimitation of our maritime zones, where it is not yet done.
We stressed the importance of the respect for the sovereign rights and jurisdiction of the Republic of Cyprus over its EEZ and called on Turkey to cease all seismic survey operations underway within the maritime zones of Cyprus and refrain from similar activity in the future.
We also call for a just, comprehensive and lasting settlement of the Cyprus problem that will reunify the island in accordance with international law, including the relevant United Nations Security Council Resolutions. Such a settlement would not only benefit the people of Cyprus as a whole, but would also significantly contribute to the stability and peace in the region."
In any case today, Cairo and Nicosia are aiming at the realisation of the network that will allow commercial exploitation of the produced quantities of natural gas in the Eastern Mediterranean within the EEZs of Egypt and Cyprus.
Both sides tend to take advantage of Egypt's LNG facilities but do not exclude the possibility of building a submarine pipeline linking natural gas within the Cypriot EEZ with Egypt.
However, two issues are anticipated: the completion of the exploration programme of the undersea territory of Cyprus and to ensure the availability of natural gas quantities, such as the Zohr field in Egypt, wich would justify such projects…. / IBNA