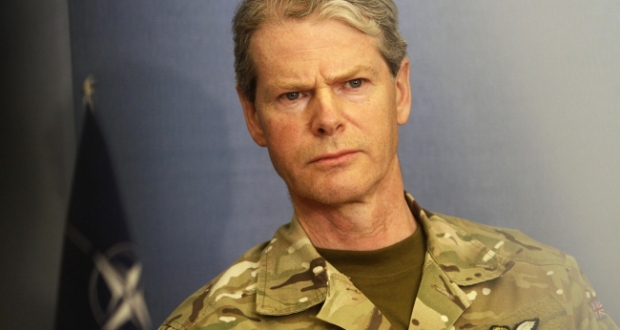 Bucharest, April 20, 2015/ Independent Balkan News Agency
By Daniel Stroe
Romania's National Defense minister, Mircea Dusa, and General Sir Adrian Bradshaw (photo), Deputy Supreme Allied Commander Europe, are to attend the Distinguished Visitors day (DV-day) on Tuesday, as part of the Wind Spring 5 multinational exercise to be carried out at the Smardan Training Area, Galati County, SE Romania.
During the Wind Spring 15 multinational exercise several activities are planned, such as command post exercises, combat training exercises and solving of complex tactical situations, the Defense Ministry said in a press release.
The drills are part of the series of joint training activities that are taking place within the country, as well as outside the national territory, during the Atlantic Resolve operation, in order to demonstrate the reassurance measures adopted within the North Atlantic Council on ensuring regional stability and security, especially in the current security climate of the eastern flank of NATO.
About 2,200 troops, with weaponry and equipment, will be participating between April 16 and 30 in the military drill at the Smardan range and the Mihail Kogalniceanu Air Base Administrative Centre (CAAMK), near the Black Sea port of Constanta, Constanta County, from UK, Moldova, Romania and the USA.
The exercise has as a purpose the joint training, in a unitary manner, of the servicemen of NATO or partner states, for the maintaining of operational capacity of structures and fulfilling the specific interoperability and standardization demands of NATO and the EU.
At the same time, the exercise will see both the participation of servicemen and equipment from units of mechanized infantry, armor, anti-air artillery, logistic support, mountain huntsmen sub-units, as well as IAR-330 SOCAT helicopters and IAR-99 Hawk aircraft of the Romanian Air Force, and elements specializing in radio-electronic warfare and civilian-military liaison.
General Bradshaw will be paying a two-day visit to Romania, on Tuesday and Wednesday. His visit comes shortly after the one paid by German armed forces Chief of Staff, General Volker Wieker and US General Philip Breedlove, Supreme Allied Commander Europe. While in Bucharest late last month, Breedlove said NATO is to soon make a decision on relocating heavy weaponry to Romania, an announcement which drew Russia's ire. A base at Deveselu, in southern Romania, will become operational late this year as part of the NATO-led anti-missile shield.
At a meeting of the Defense ministers in Brussels, NATO decided to open six new command centers in the Baltic countries, Poland, Romania and Bulgaria and raised the total number of allied troops to be deployed on its Eastern flanks to 30,000, of which 5,000 will form a fast reaction force, capable to be deployed and respond to an immediate threat in two days at the most.