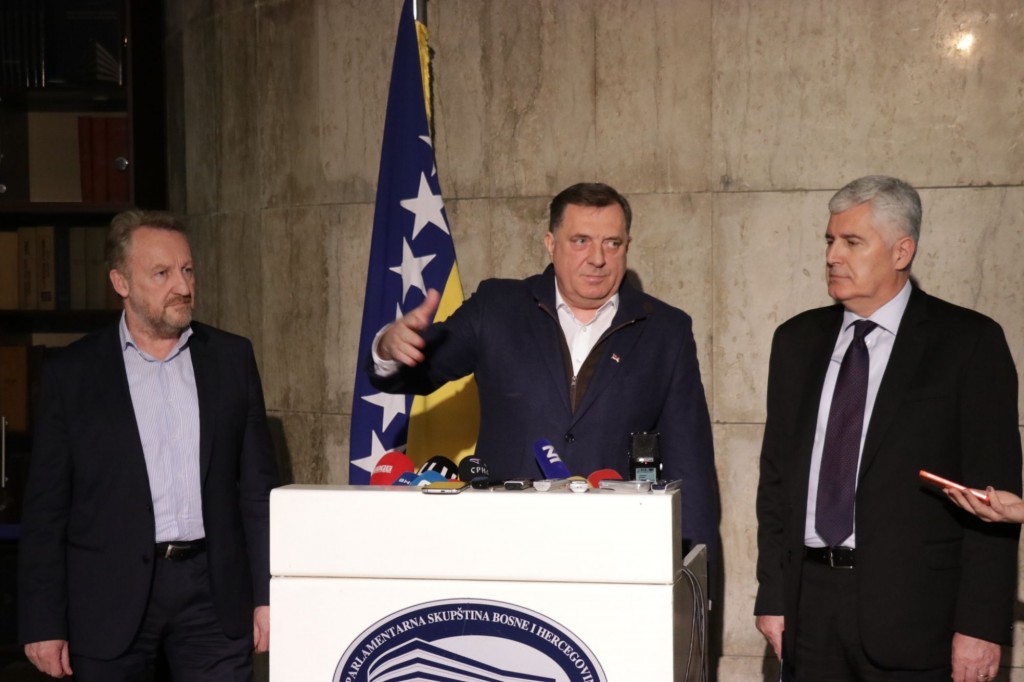 The leaders of the SNSD Milorad Dodik, HDZ Dragan Čović and SDA Bakir Izetbegović held another meeting on the establishment of state-level authorities and agreed that a chairperson to the Council of Ministers should be appointed within a week and the Council formed until the end of the month.
Dodik and Izetbegović stated the parties were going to define a principle that could please everyone. After the meeting, Dodik said to the media that the Council chairperson should be a Serb.
He added that the existing consensus regarding the path towards the EU is not disputable, and neither is the consensus regarding the coordination mechanism. Dodik pointed out that conditioning the formation of the Council of Ministers with the adoption of the NATO Membership Action Plan /MAP/ was not rational, and added that the issue would not go away only because Republika Srpska believed things should be different.
SDA leader Bakir Izetbegović said no agreement was reached on the MAP activation.
"Republika Srpska definitely has a political right and political stance regarding MAP; it only has to make it effective through state-level institutions. We passed laws that are unambiguous; we adopted MAP and MAP activation-related strategies, annual plans and the like", Izetbegović said.
HDZ BiH president Dragan Čović said that there are many technical details that need to be implemented in order to establish the Council of Ministers by the end of March.
Čović said this might be too optimistic, but that it is necessary that three political options, which are negotiating the formation of a Council of Ministers, agree upon a short statement in the next two to three days.
"If the three political options agree upon a statement on that which was discussed today, there is no reason not to appoint the chairman to the BiH Council of Ministers in the next twenty days, when the legally stipulated deadline expires", Čović told reporters
He said they also discussed other subjects, stressing that it is necessary to form the Council of Ministers as soon as possible in order to be able to focus on economic reforms, traffic infrastructure and other issues.
He expressed the hope that partners will understand each other regarding the distribution of ministries so that a balance would exist there also regarding ambitions of the SDA, HDZ and the SNSD./IBNA