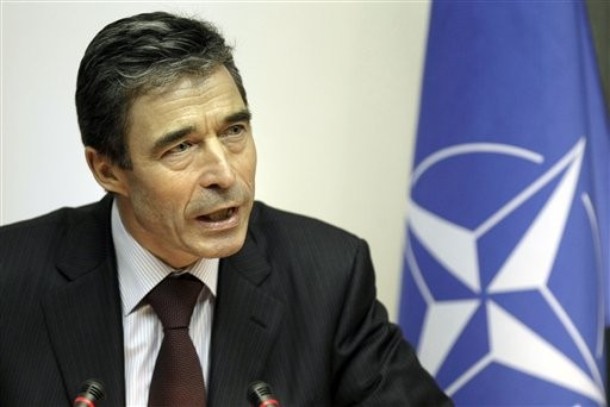 By Daniel Stroe – Bucharest
Anders Fogh Rasmussen, NATO's secretary-general, who is on a two day visit to Bucharest, last night confirmed NATO is fully committed to defending all its members amid the growing Ukrainian crisis and in the face of an ever aggressive Russia which sparked serious concerns among the allies in Eastern Europe.
"An attacks against an allied state is an attacks against all the allies. This is our clause of solidarity and means collective security" Rasmussen pointed out in an interview to the Romanian state television. He underlined though that all the measures recently taken by NATO are purely defensive. "Despite this, we have to make sure the military forces are prepared for any possibility and, obviously, this is also a clear signal we are conveying to the potential aggressor, which is they shouldn't even think about attacking a NATO ally. I can assure you we are ready to defend every single stretch of land of NATO's territory" the secretary-general warned.
He also highlighted the situation is concerning and "Russia's illegal military actions in Ukraine" have led to a completely new situations in Europe that NATO has to adapt to. "This is the reason why we have decided to enhance the collective defense measures because this is the very objective of NATO, to ensure collective defense of all the allies" he added. His statements come as Romania, Poland and the Baltic states asked NATO to relocate and permanently establish military capabilities on their territory to dissuade Russia from further aggressive behavior.
Rasmussen's visit to Bucharest is days away from US Vice-president Joe Biden's official trip to Romania who will also bring the same message of political cohesion in the face of Russia's aggressiveness. This week, Romanian President Traian Basescu warned Russia seeks to expand its area of influence in southern Ukraine so it reaches the former Soviet borders on Danube. The Russian embassy in Bucharest refuted this scenario.
In an interview to Bloomberg TV, Russian foreign minister Serghey Lavrov alleged the roots of the current crisis in Ukraine go as far back as the NATO summit in Bucharest in 2008 when Ukraine and Georgia were given hopes to join the Alliance. "The current crisis started, the seeds of this crisis were planted in 2008, in April, during the NATO summit in Bucharest when NATO leaders said, in the final declaration, that Georgia and Ukraine would become members of the Alliance" he said.
Receiving Rasmussen, PM Victor Ponta said Romania would raise its defense budget to 2 % of the GDP in 2015, as all the member states are required to do. The Government in Bucharest last month decided to supplement the defense budget by 700 million lei (about 160 million Euros) and write off the debts of 15 state owned defense companies.