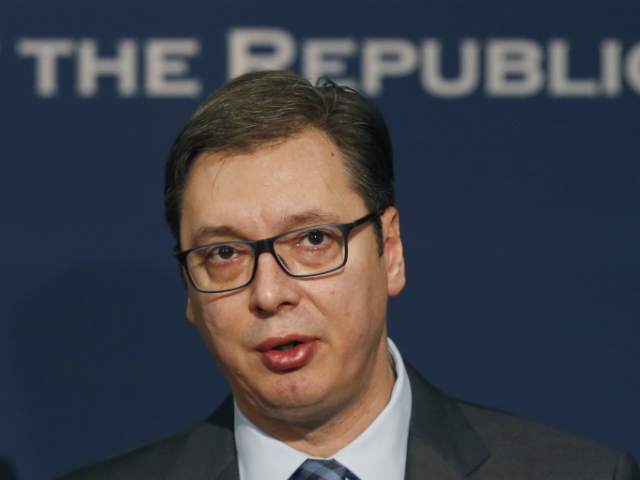 The KFOR forces, ie NATO have been deliberately deceiving the whole public with regard to the situation in Kosovo and Metohija, said president Aleksandar Vucic. He added that "it became clear to everybody under whose instructions and in co-operation with which (great) powers NATO representatives have been lying".
At the meeting with Chinese ambassador Li Manchang, Vucic and prime minister Ana Brnabic have said that Serbia was never in such a difficult situation, according to the press release of the Presidency. Vucic and Brnabic have asked Manchang to convey this notion to the Chinese leadership.
The current crisis between Belgrade and Pristina, after the latter's failure to become Interpol member and subsequent imposing additional 100 percent tax on products from Serbia, broke out "despite the continuous appeals to preserve peace and stability", Vucic said. He insisted that the Serbian policy was "serious and responsible".
Brnabic said that the United Nations should react on Pristina's move, adding that Serbia expects support of China in that regard. She reiterated that the European Union should react too, due to the fact that tariffs contradict Kosovo's Stabilization and Association Agreement with the EU; CEFTA agreement is also breached, she added.
China understands the situation "very well" ambassador Manchang said; the moves of Pristina, in his words, represent a "well known attack on Serbian integrity". Chinese president Xi Jinping will be informed about the current events within days, he promised, adding that "Serbia can count on the support of China".
Kosovo special forces ROSU have detained four persons in Kosovska Mitrovica early on Friday. According to accounts, detainees are ethnic Serbs; three of them are suspected for murdering Kosovo Serb politician Oliver Ivanovic earlier this year, while one has been detained over resisting the police action./IBNA