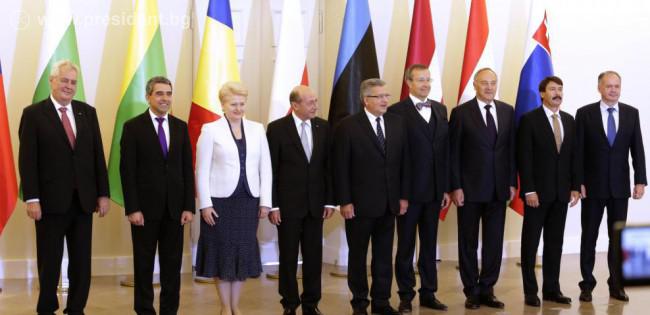 By Clive Leviev-Sawyer of the Sofia Globe
Increasing Nato forces in the South Eastern Europe region, conducting more joint exercises and making more active use of joint military facilities in Bulgaria were among proposals put forward by Bulgarian President Rossen Plevneliev at a meeting of head of state of eight Central and Eastern European countries that are members of Nato.
The meeting in Warsaw on July 22 was held to prepare for the Nato summit to be held in September in Wales. The forum involved the heads of state of Bulgaria, Estonia, Latvia, Lithuania, Poland, Romania, Slovakia, Hungary and the Czech Republic.
Events in Ukraine had shown that "we cannot take peace and security in Europe for granted," Plevneliev said.
He said that the countries of the alliance should remain united and determined to prevent a subsequent escalation of the conflict in Ukraine.
The heads of state agreed that technological modernisation was essential to keep Nato as the most effective and capable military alliance in the world. This required setting aside at least two per cent of the GDP of the member countries for defence while 20 per cent of the military budget should be earmarked for capital spending and modernisation.
Plevneliev emphasised that Bulgaria would gradually increase its defence spending to 1.5 per cent of GDP by 2015, with a subsequent increase of 0.1 per cent a year to reach the intended level of two per cent and to achieve a level of 15 per cent of the defence budget being set aside for capital spending.
The rapid development of a common plan for Nato action, and the adoption of action plans in emergency situations by individual member states are important steps towards improving overall security, Plevneliev said. Bulgaria was already working with Romania to reach such an agreement, which will increase integration and the defence capabilities of the two countries.
Plevneliev backed the continuation of Nato's "Open Doors" policy, which strengthens the partnership and commitment to reforms in the candidate countries for membership. He said that Nato should establish a clear time frame for the future accession of Montenegro to Nato.
There was general support for the declaration by US president Barack Obama in June that he was ready to invest in a $1 billion increase in the defence capabilities of the partners from Eastern Europe, to deploy additional forces and participate in more military exercises, and to encourage the development of the defence potential of Georgia, Moldova and Ukraine.
Polish president Bronislaw Komorowski said after the meeting that he and his counterparts from the eight CEE countries had agreed that Nato's eastern flank must be strengthened in the light of the ongoing Russia-Ukraine conflict.
Ahead of the meeting, Lithuanian president Dalia Grybauskaitė said that Europe was betraying its own values and was trading security for profit, which allows Russia to effectively employ the "buy and rule" strategy.
"We must put a stop to this. All European countries must realise that, in the wake of such brutality against a civilian aircraft, we, the Europeans, must stop the mistralisation of our policies," Grybauskaitė told Lithuanian national radio LRT before leaving for a summit of regional leaders in Warsaw, the Lithuania Tribune reported.
On July 21, Romania's president Traian Basescu criticised the EU for a soft stance toward Russia's president Vladimir Putin, after the downing of a Malaysian airliner with nearly 300 people on board in territory held by pro-Russian forces in Ukraine last week.