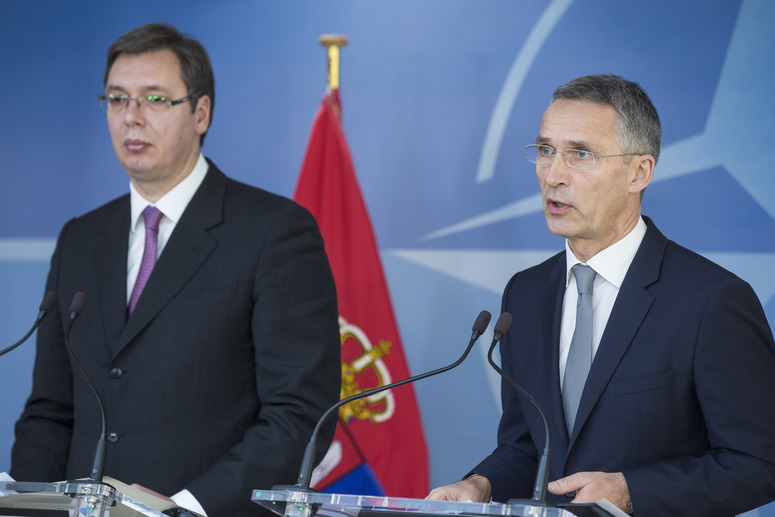 North Atlantic Treaty Organization respects Serbia's military neutrality, NATO secretary general  Jens Stoltenberg said after meeting with prime minister Aleksandar Vucic in Brussels today. Stoltenberg expressed regret over "innocent victims" of the NATO 1999 bombardment of Serbia.
He said that Vucic's meeting with the representatives of the Atlantic Council was "excellent". This was first Vucic's meeting with the members of the NATO body.
"We had an excellent meeting which shows that we are working on improving the cooperation between NATO and Serbia. I am proud of friendship with you", Stoltenberg told Vucic at the press conference in NATO headquarters in Brussels. "We have discussed different issues including our mutual security challenges", secretary general added.
"Serbia is in the heart of the Balkans, in the heart of Europe and in different ways it contributes regional and national stability", Stoltenberg stressed. Furthermore, he said that Serbia is "exporter of stability", and that he is "impressed" with country's reforms and tackling the refugee's issue.
"We also hail the fact that Serbia contributes to peace missions in Cyprus, Lebanon and Africa", NATO head underlined. "I really do believe in the potential of NATO-Serbia cooperation; we cannot forget the past, but let us focus to the future", he concluded.
When asked what mutual security challenges are, Stoltenberg mentioned Iraq, Syria and coping with the foreign fighters. He reiterated Serbia's role in refugee crisis and international missions. "NATO trains Serbian soldiers which is important for Serbia, but also for the NATO and Europe", he said.
Vucic said that Serbia is military neutral country but wants to continue cooperation with NATO "because without cooperation there are no peace and stability in the region which are preconditions for Serbia's economic growth and progress".
PM said there were no pressures on Serbia to join NATO. At the meeting with Atlantic Council he stressed, as he said, that Serbia is in European path, but has good relations with the Russian Federation and wants to improve its good cooperation with NATO./IBNA