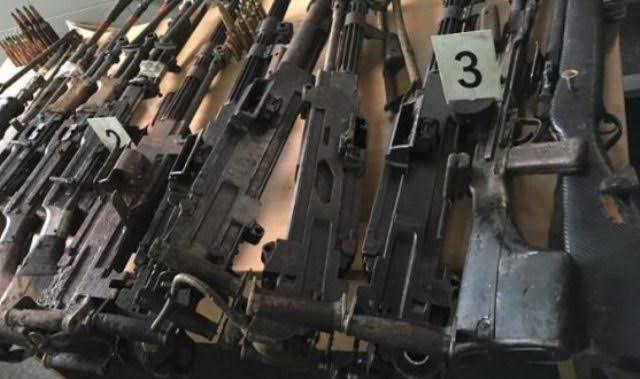 In Albania, the government has decided to start a nationwide operation for the collection of fire arms which are owned without permission.
Minister of Interior, Saimir Tahiri said today that all of those citizens who hand in their weapons in a voluntary way, will not be penalized. "There will not be legal repercussions for those who hand in their weapons in a voluntary way", he assured.
This campaign will take place from 15 November until 15 December 2016 and it will be funded by the European Union and it will be implemented by the Albanian Interior Ministry in partnership with PNUD SEESAC (South Eastern and Eastern Europe Clearinghouse for the Control of the Small Arms and Light Weapons).
Albania has gone through several campaigns for the collection of illegal weapons and some are skeptic about the success of this new operation. Mr. Tahiri is optimistic: "Along with our EU and UN partners, we will launch a wide campaign in Albania for the collection of unlawful weapons. It is not an easy job, but it's something that we can achieve together. Police officers will visit every home in Albania to communicate with the citizens and make them aware of the dangers of fire arms and create a legal gap for citizens to hand them in voluntarily".
Albanians do not want fire arms at home
Although there are thousands Albanians who still possess fire arms in their homes, according to a public survey recently carried out by the leading agency of polls "IPSOS", over 60% of Albanian citizens are against the possession of fire arms, regardless of the circumstances.
Meanwhile, 78% of them believe that the State Police is the main contributor of security in the country.
Weapons, a fatal wound of the Albanian society
For hundreds of years, it was an Albanian tradition to own weapons at home. When the communists came in power in 1994, weapons were gathered and very few held on to them. At the start of the '90s, when the communist regime was overthrown and democracy was restored, Albanians didn't grab the weapons.
But in 1997, the state fell in an irresponsible way and military units, police stations and prisons were opened by the state. Many people were armed and this marked the start of the sale and purchase of weapons. Not only this, but thousands of Albanians were killed in 1997-1998 when arms depots were opened, as many people rushed to "settle old debts" and commit gruesome crimes.
In 1998, the government announced a plan to collect weapons and exempted from prosecution anyone who would hand in their weapons voluntarily. This worked out to a certain extent and hundreds and thousands of weapons were handed in. But hundreds of thousands of others have been kept hidden until today. This has led to many arms to be collected during these two decades and on the other, it led to traffic of arms inside and outside of the country, but more sophisticated and at prices much higher than before.
Over 10 thousand citizens lost their life or remained seriously injured as a result of weapons illegally distributed in 1997.
These figures would shock anyone who would stop for a moment and think about Albania's near past. These 10 thousand people who have lost their life or who have been seriously injured with fire arms from 1997 until today in Albania, raises the alarm for what the state and the citizens must do today to refuse, first of all the model of thinking, perception and even more, of owning a weapon without permission.
Because even today, two decades later, Albania has a big problem. On one hand, possession of arms still serves as an immediate solution to momentary conflicts. This is a problem which has severe and fatal consequences, however peripheral it is due to the temperament, instant emotions or the state of mind. It is still too easy for people to find a weapon and use it to solve a conflict. On one hand, this comes as a result of the fact that it is too easy to find an illegal weapon. On the other, it comes as a result of the lack of a solid system of justice, because court rulings are not delivered based on the law, but based on corruption and political influence and pressure. This often makes people take justice in their own hands. This sort of justice is made through the use of weapons and unfortunately, it continues even today. /balkaneu.com/