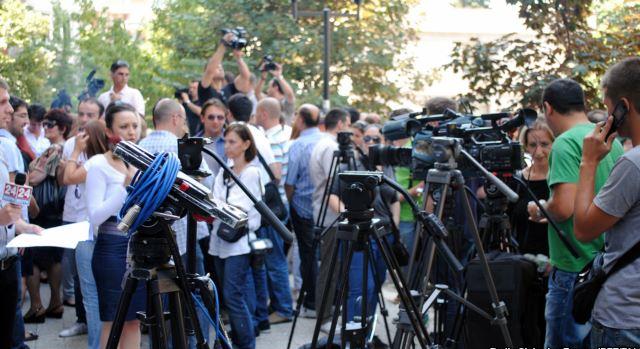 Skopje, February 4, 2014/Balkan Independent News Agency
Ahead of presidential elections, politicians have intensified nationalist tones and language of hatred. According to a survey carried out by "Rating" Agency and Macedonian Media Institute (MIM), over 79,4% of citizens have said that nationalist and cross ethnic hatred tones have grown in the country between politicians of different political parties.
According to the survey, over 70% of respondents believe that cross ethnic hatred language has intensified in the past few years. The survey indicates that 86% of the people notice cross ethnic hatred on civil servants as well, while over 70% on political parties.
Respondents consider media as the most important factor through which these negative phenomena are manipulated and conveyed. Over 97% of citizens have encountered language of hatred on television, 75% on newspapers and 48% on social networks and different web pages. Based on ethnic affiliation, 56% of Albanians believe that there's a very strong cross ethnic language of hatred used by the other community, Macedonian, while 46% of Macedonians have declared that Albanians use cross ethnic language of hatred. 1 thousand people of different ethnicities have participated in this survey.
Analysts believe that cross ethnic language and nationalist tones will dominate in the electoral presidential campaign. According to political analysts, cross ethnic issues will also be something which will make tensions rise.
"Political parties will use this campaign like they have done in the past. Albanophobia is always a "winning card" and it will be used again. Language of hatred and strong rhetoric will characterize even this pre electoral campaign. Politicians will also misuse sensitive issues in order to gain political points", says Mirjana Maleska, professor at the University of Southeast Europe in Tetovo.
Debates over the language of hatred have intensified when last week, the editor in chief of the private TV network "Sitel", Dragan Pavlovic-Latas, called upon Macedonians to join in and vote against the Albanian language as an official language in FYR Macedonia. This appeal which came during a news bulletin, has sparked the reactions of Albanian parties, but also civil society.
"ZGJOHU" Movement called today upon the Agency for Audio and Visual Services in FYR Macedonia, notably to its Albanian representatives, to file a lawsuit against the racial calls of the journalist of Serb origin.
"If Albanian members join the head of this institution, Zoran Trajcevski, who said that the journalist in question has not used a language of hatred, then we, as an association, will file a lawsuit against the pseudo-journalist Latas for inciting cross ethnic hatred", said the representative of "ZGJOHU!", Teuta Zllatku. This movement appeals for nationalist tones and language of hatred to be moderated and for tolerance and cross ethnic understanding to be promoted.
Even citizens of the country demand from the political class not to encourage cross ethnic tensions and not to benefit from this situation of poverty, where people are more interested for economic and social survival, than lies and nationalist tones. "I believe that there's no need for patriotism, because we, as a people, regardless of our ethnicity, are living in difficult social conditions. People want harmony, wellbeing and a better future to be promoted by the political class and not lies and nationalist tones", says Qenan I, businessman from Kumanovo.
According to him, a part of the politicians are using these nationalist tones and language of hatred to conceal crime and corruption where they've been involved in during their time in power. /ibna/