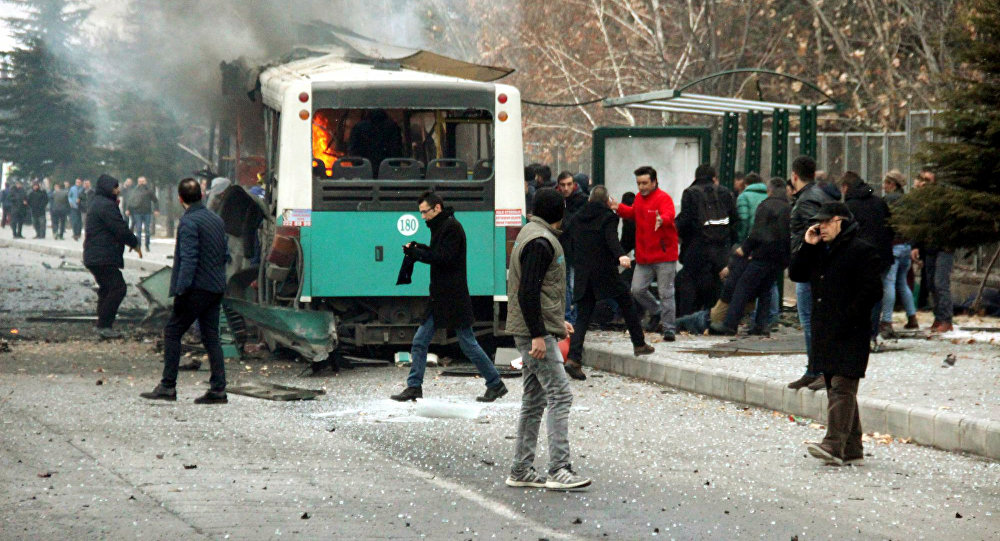 The tension between Kurds and Turkish nationalists in Turkey is reaching dangerous levels, especially after the terror attack in Kayseri the second massacre after Istanbul, in the space of a week.
Saturday's bomber drove a car that was trapped with explosives onto a bus with soldiers killing 14 people and wounding 56 others. The soldiers were Airforce commandos on leave for the weekend from the nearby houses of the First Airborne Brigade.
Nobody accepted the blame for the attack so far on Sunday however the vice president of the Turkish government Numan Kurtulmus said that "all the evidence suggests that it is the PKK".
A few hours after the attack nationalist demonstrators in Kayseri raided the offices of the pro-Kurdish HDP party. The protestors carried flags of the nationalist MHP party and with the help of a crane took the HDP sign down.
Late on Saturday night nationalists attacked the offices of the HDP in the Beylikduzu region in Istanbul and setting the building on fire leading to the explosion of a gas cylinder. In the particular offices the damage was huge and according to the Kurds there was no intervention by the police. As in Kayseri the nationalists continued their attack without hindrance.
The President of the MHP Devlet Bahceli requested for calm from nationalists who are carrying out similar attacks against Kurdish organisations throughout Turkey. "The antidote to terrorism is national unity," said Bahceli.
Turkish President Recep Tayyip Erdogan in a written statement argued that Turkey is on the receiving end of a "coordinated attack by terrorist organisations."
The Turkish President blamed the PKK for the attack, noting that the attacks in Turkey were related to developments in Iraq and Syria.
Russian President Vladimir Putin phoned his Turkish counterpart and said that Russia is ready to strengthen cooperation against terrorism between the two countries.
The new attack comes a week after the double bombing outside the stadium in Istanbul, which resulted in the death of 44 people and the injuring of over 100.
From June 2015 until today there have been 35 terrorist attacks in major cities. Most terror strikes were related to the Islamic State and organisations associated with the PKK.
However the Turkish economy is being hit hard by the terrorist attacks and turkish citizens have come to the point of being afraid to go out onto the streets./ΙΒΝΑ