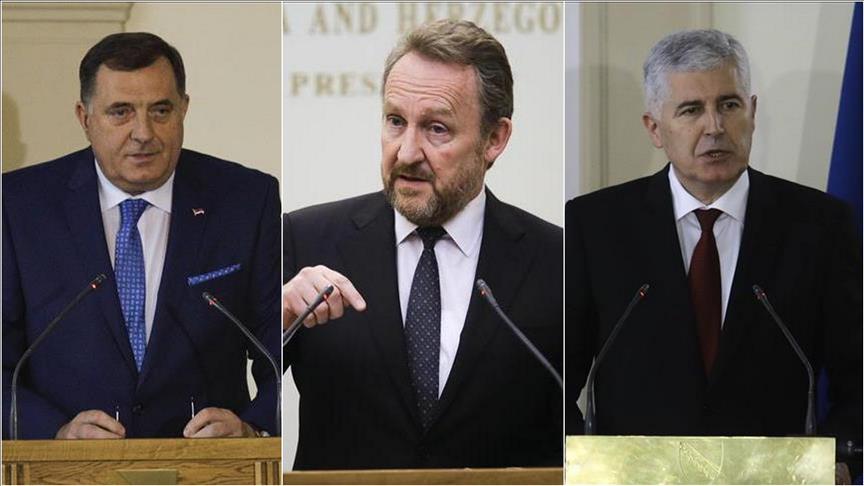 The leaders of the three major national parties in Bosnia and Herzegovina, Alliance of Independent Social Democrats (SNSD), Party of Democratic Action (SDA) and Croatian Democratic Union (HDZ) met on Monday in Sarajevo to discuss the formation of the state Council of Ministers and other institutions, failing however to reach an agreement.
In fact, the only result was the decision to hold another meeting in the next two days. Milorad Dodik (SNSD), Bakir Izetbegović (SDA) and Dragan Čović (HDZ) are key players in the establishment of the country's government institutions. Despite the fact that general election were held in October 2018, BiH has yet to implement the election results.
As Dodik and Čović stated after the meeting, the main goal is to complete the formation of the government as soon as possible, which means establishing the Council of Ministers. According to them, it is also important to use the current political momentum this week, when the House of Peoples of the FBiH and the House of Peoples in state Parliament are expected to be established in full capacity.
"I am optimistic, and I do not see the reason to prolong this. In the next few days, we will again sit down and try to reach an agreement. Today we met to see the dynamics for the formation of the Council of Ministers", Čović said.
He pointed out that at the next meeting, a discussion on the distribution of the ministries could be expected, and then the announcement of the names of future ministers.
Milorad Dodik, who said that he does not see any obstacles for the formation of government at the state level, was quite optimistic.
"We from RS have nine MPs in the House of Representatives and five in the House of Peoples. There is no problem for the Serb who the Chairman of the Council of Ministers will be, even if it is Zoran Tegeltija, and our approach is to finally resolve this issue. There is also the issue of the mass employment in state institutions. More than 400 persons have been employed in state institutions from the election until now. The old institutions and former ministers are doing this, which is incorrect and illegal", Dodik said.
SDA President Bakir Izetbegovic also addressed the media, and said that a discussion was held about priorities and relations.
"We talked about the position of Bosniaks and Croats in the RS, about the position of Serbs in FBiH, in order to improve the atmosphere. We did not go into details", Izetbegovic said briefly.
Dodik and Čović insist that a candidate for the Chairman of the BiH Council of Ministers be nominated as soon as possible, but the Bosniak and Croatian members of the Presidency, Šefik Džaferović and Željko Komšić, respectively, are making it conditional upon BiH's path to NATO. The whole process is at a standstill and, obviously, all sides are trying to gain as much as they can in these negotiations.
It is worth saying that Dodik and Čović are friends and their relation with Izetbegović is "cold" at best. Dodik is the only BiH Presidency member between them, but Izetbegović and Čović were both Presidency member until the October election./IBNA