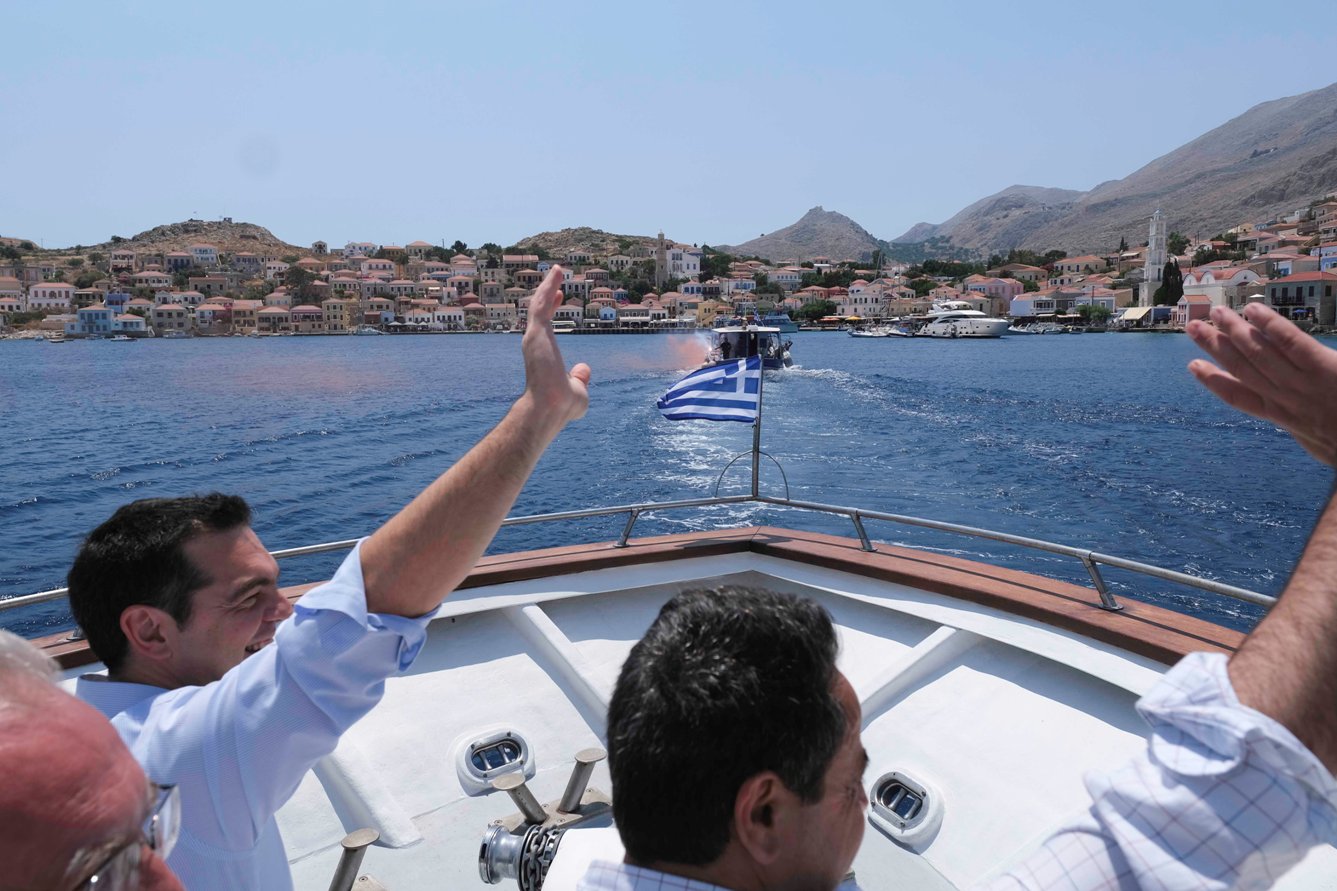 By Spyros Goutzanis
With a cinema of high symbolism and intense dramatization, Prime Minister Alexis Tsipras puts national issues and the escalation of Greek-Turkish relations in the spotlight.
Mr. Tsipras interrupted his Dodecanese tour to return to Athens to convene the KYSEA in order to examine the information that emerged after the briefing that the drillship "Fatih" had begun the drilling process in the Cyprus EEZ. The information arrived at the Prime Minister and his party on Saturday, while he had visited Rhodes in the morning and was headed for Halki. In a brief speech to the residents of Chalki, the prime minister linked the finances to the national issues, announcing the abolition of ENΦΙΑ in the islands of less than 1000 inhabitants, in order to strengthen those who "keep the Thermopylae in the Eastern Aegean". At the same time, he issued a warning to Turkey that "Greece does not threaten but will not accept threats". The decision to stop his tour was taken when he had reached his next stop in Tilos and while on Sunday he was going to visit Nisyros and Kos, two islands that the prime minister did not visit in the past, and while the local mechanism was waiting to boost the election result.
The discontinuation of the tour was announced late Sunday afternoon, while the prime minister was deprating for Athens.
In his statement in Chalki, Mr Tsipras had given an indication of what was to follow, with the warning he issued to Turkey, which "continues the illegal acts in the Cypriot EEZ and is thinking of moving further north." The prime minister was referring to the second Turkish drillship, which informations indicates that it will move to the area of ​​Kastelorizo and will bring the controversy clearly to Turkish-Greek relations. Naturally, at KYSEA, the possibility and what are the appropriate moves of Greece at both military and diplomatic level were discussed, so that the country would have to face a fair accopli.
Turkey's move was "butter" in the pre-election "bread" of Alexis Tsipras. It is assumed that in times of national threat an audience rallies around the government of the country. This is why Kyriakos Mitsotakis replied with a statement, in which he stressed that "the dramatization of the situation, with the convening of the KYSEA during the Holy Spirit holiday, had political and pre-election connotation."
The prime minister had begun from Malta to include in his electoral rhetoric the escalation of the threats to Turkey. Already in the Summit of the countries of the European South he called for, in consultation with Nicos Anastasiades, the imposition of sanctions on the part of the EU, a fact he highlighted in his statements immediately afterwards. In fact, the issue will be highlighted further with the EU summit meeting to be held at the end of the week.
The change in the pre-election atmosphere caused by a sense of national threat, the rally around the national government, and even a minimal percentage in the ballot box is important for SYRIZA. As all the polls – which after the European elections fiasco are taken seriously by the government staff – show a comfortable lead for ND, the prime minister and his colleagues draw up their strategy for the next day. The goal is not to overturn the situation, but to reduce the gap that will prevent ND from achieving a majority in parliament, along with the reinforcement of SYRIZA's rates, so that SYRIZA remains both in the game of government formation and be considered beyond any doubt the second pole of bipartisanship. From then on, Alexis Tsipras will decide who will be the bearer of the new center left that will emerge after the elections. Whether it will be a mutant SYRIZA or a new party/ibna
Photo: PMPO/Andrea Bonetti