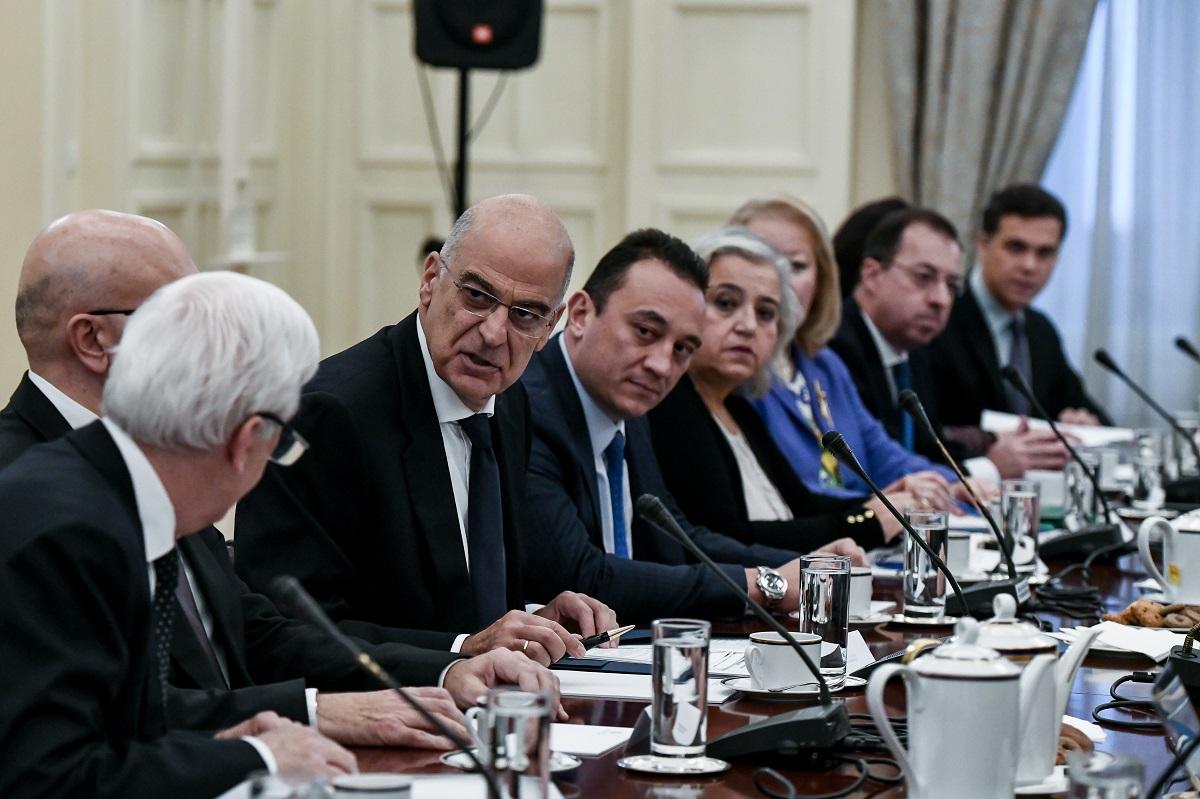 The National Council on Foreign Policy, which was held in light of the latest developments in the Eastern Mediterranean and the back-and-forth statements and responses between Athens and Ankara, and was chaired by the Minister of Foreign Affairs, was completed in the afternoon; the Minister also provided briefing on the positions presented by Greece in the Foreign Affairs Council meeting in Brussels on Monday.
It is recalled that Nikos Dendias asked the EU Council on Foreign Affairs to straightforwardly denounce the Memoranda in-question, and to set up a framework for sanctions in the event that Turkey and the Tripoli government – as Greece chooses to refer to the Libyan government to emphasize that it does not represent the entire country – fail to comply.
At the same time, Athens, by issuing letters to the UN Secretary-General and the Presidency of the Security Council, has stated the Greek positions and listed the legal arguments underlying them under the Law of the Sea.
During the convergence of the National Council on Foreign Policy, SYRIZA called for a return to "active foreign policy" and the maintenance of dialogue and communication with Ankara.
As for the main opposition, former Foreign Minister G. Katrougalos, right after the National Council on Foreign Policy, stated: "We are contributing through our proposals to get our foreign policy back to the level it should always be; for it to find again a compass and a unified, concrete front on this basis, so that we can prevent the climaxing of Turkey's illegal activities".
He also urged the Council to set in motion the sanctions that have been decided regarding the unlawful activity in Cyprus, as well as to extend them to Turkey's illegal activities, in the event that the "non-existent and void agreement with Libya" is implemented.
Moreover, he called for active measures such as the convening of the Conference of the European South, "but also the creation of a communication channel, immediate confidence-building measures" once the Turkish provocation has stopped, "as well as for the exploratory operations to resume". /ibna