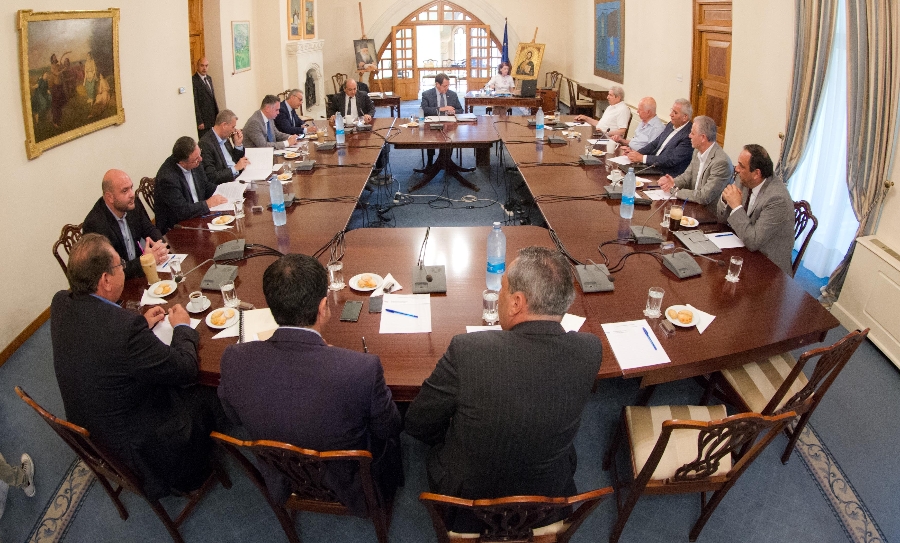 The President of the Republic of Cyprus, Nikos Anastasiades, chaired a session of the National Council today at the Presidential Palace.
In his statements to the reporters after the meeting, the Government Spokesman, Nikos Christodoulides said: "I would like to express the satisfaction of the President of the Republic for the fact that a productive discussion among the members of the National Council has begun today, a debate that has not been completed, and will continue tomorrow and I estimate that more meetings of the National Council will be needed to complete this debate".
Asked how the government sees progress in the Cyprus process, the spokesman said "we should expect the conclusion of this debate at the National Council level. What I can refer to, from the government's point of view, is on our readiness, as was also shown at the negotiating table, so as to create prospects that allow us to be optimistic for a positive outcome".
Asked how the President of the Republic will use what he hears from the political leaders in the National Council, the Spokesperson said that "a very productive dialogue is taking place. At the end of the debate, we will see how all this data will be used and to what extent a common approach can be taken. Discussion is taking place with utmost respect for possible different approaches, different views or different considerations. But what dominates is the productive dialogue".
Invited to say if there were any new proposals from the parties, the Spokesperson said "wait for the discussion to come to a conclusion and then we will be able to talk more specifically".
Asked what the presence of the Greek Minister of Foreign Affairs will add to the National Council meeting tomorrow, the spokesman said that "it is within the framework of the coordination of Athens and Nicosia for the subsequent steps and, if not exclusively, (the presence of the Greek Minister of Foreign Affairs ) it has to do with the approaches to security and guarantees.
You realize that the Greek Government – and this has become clear in both the statements of the Greek Prime Minister and the Foreign Minister – is not involved in the chapters that concern the internal aspect of the Cyprus problem".
Invited to comment on the drilling progresses, the Government Spokesperson said that "when there is a need for statements concerning the drilling issue, we will make announcements. What I can say right now is that the implementation of our energy plans, and quite specifically in plot 11, is progressing without any problem".
Asked whether the French Minister of Defense will also visit plot 11, Christodoulides said that "there is no such arrangement in relation to the French Minister of Defense's programme".
Asked whether there is something new in relation to the movements of Turkish ships and if there is any concern, the Spokesperson said that "the implementation of our energy plans, the programming that has been made in relation to plot 11, goes as planned"./IBNA
Photo: pio.gov.cy