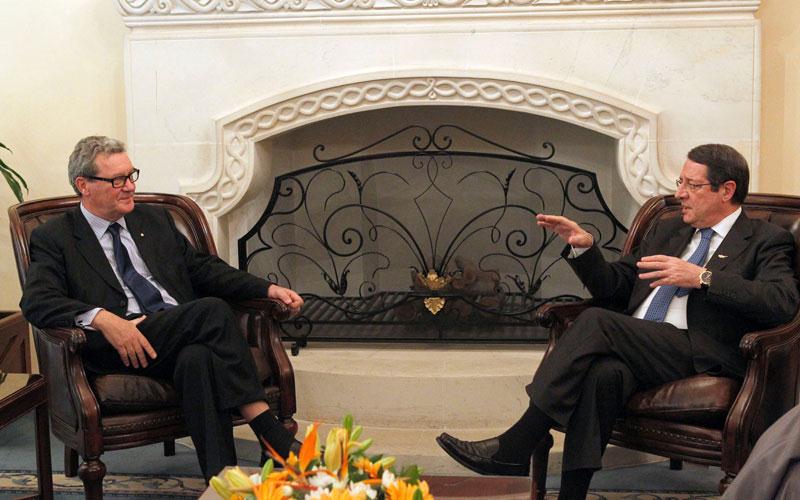 By Thanasis Gavos – London
A clearer picture has been emerging over what the outcome of the Cyprus National Council meeting on June 14 might be, damping reported high expectations by some of the involved players.
The rush of the last couple of months by Alexander Downer and others to get Cyprus into negotiation mood has been met with robust arguments by the government of Nicos Anastasiades which seem to have settled the matter of the new talks round date, probably October. Something similar has been happening with determining the role of the forthcoming National Council.
Initial reports wanted everyone outside Cyprus longing for a decision on the name of the new chief negotiator on the 14th. A final say on the controversial convergences document presented to the two leaders by the UN Secretary General Special Adviser, preferably a positive one, would also satisfy most of those not actually participating the council meeting.
However, once again the Cypriot side has made clear that it sets its own terms. The president and people around him see this National Council gathering as of procedural character, a necessary occasion to lay down plans of how to proceed in order to make the big decisions when time comes.
According to insiders, the name of the appointed negotiator or more precisely the negotiating team should not be expected until September time, around a month or so before some substantial movement is to be seen regarding the Cyprus issue talks. The Democratic Party's Marios Garoyian confirmed that no discussion has taken place over the negotiator ahead of the National Council meeting despite the fact some Cypriot media have started the naming dance.
As for the convergences document Mr Anastasiades has dissociated himself stating it would not be considered as a basis for renewed talks.
That does not mean the National Council will be a completely dry and dull occasion. AKEL plans to submit its own proposals, while it faces a dilemma: does it or does it not accept participation in the new negotiating team? This is also a question that will probably not get a final answer on the 14th, but at least the National Council should set the wheels for the big decisions in motion.