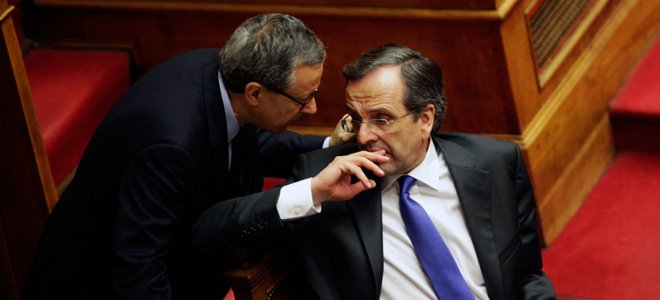 By Lefteris Yalluros – Athens
National Bank of Greece (NBG) shares plummeted 12.13 pct Monday as plans of the bank's capital increase emerged. NBG is set to increase its capital by 2.1 billion euros to cover the shortfall identified by the recent stress tests carried out on Greek banks.
The bank is expected to take a decision on the possible capital increase at a meeting of the Board of Directors scheduled to be held Tuesday.
The National Bank has picked Goldman Sachs and Morgan Stanley as global coordinators for a planned equity offering to plug its 2.18 billion euro capital shortfall, a senior banker familiar with the issue told Reuters on Monday on condition of anonymity. NBG had previously said it would not resort to an equity issue to plug the capital gap but would focus on selling non-core assets instead."
The offering is unlikely to include pre-emption rights for existing shareholders.
A senior National Bank executive had told Reuters at the weekend that the bank was considering an equity sale, sending its shares down Monday.
The bank's stock went crashing down, while the market continued to slide for an eighth trading day in a row Monday as declining international markets also affected the Greek index.
The Athens Exchange general index closed at 1,207.82 points – the lowest since January 31 – shedding 3.44 percent from Friday's 1,250.80 points. The benchmark's total decline in those eight southbound sessions adds up to 10.73 percent, leaving gains since the start of the year at just 3.88 percent.
Rebalancing and potential weight changes to international benchmark indexes with strong impact in the domestic market are expected to take their toll on the Athens Stock Exchange this week, analysts point out.
As NBG shareholders are expected to be suffer dilution from the upcoming capital increase and the details of Eurobank's own increase still unknown, developments in the banking system will impact heavily on the prospect of the market rebounding.
Furthermore, Alpha Bank's general assembly is scheduled to convene on Tuesday while Piraeus Bank's general assembly is scheduled for April 22. Both banks successfully tapped markets last month raising a combined 2.95 billion euros. Eurobank is set to follow suit with a 2.86 billion euro offering.
How the stock market reacts to news coming out of the economy is important for political reasons too these days. Monday's sharp drop dampened the mood following news that the government has met its 2013 budget targets thus paving the way for further debt relief.