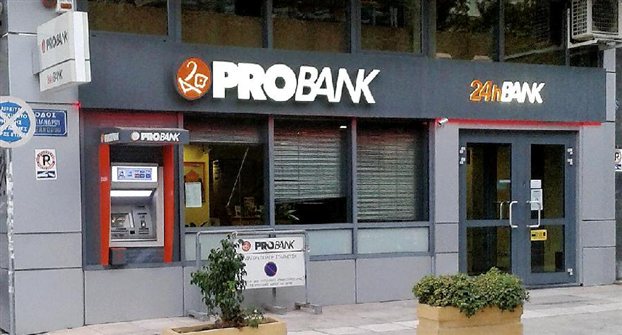 By Lefteris Yallouros – Athens
The National Bank of Greece (NBG) announced it will absorb Greek lender Probank which recently broke into a good and bad bank, with the former being snapped up by NBG.
Probank informed the Bank of Greece last Friday that it would be impossible to privately raise the required capital for its recapitalization.
Probank's licence has been revoked and the bank will enter liquidation, after which demands of third parties will be satisfied, as provided by law. Probank's customers' deposits are fully secured.
The good part of Probank which will be absorbed by NBG includes assets amounting to 3.103 billion euro, of which 2.597 billion euro loans, 3.203 billion euro liabilities, of which 3.123 billion euro deposits, and a network of 112 branches in Greece.
The absorption of assets will be accompanied by the Financial Stability Fund pumping capital into Probank and an independent auditing firm verifying the bank's balance data subsequently.
Probank had until recently been in talks with three international investment funds that had expressed an interest in covering part of the bank's EUR 220 million capital needs. However, the foreign investors had requested guarantees be given against bad loans by the Financial Stability Funds in order for their interest to come to fruition. This was not possible to occur because it violated re-capitalization rules.
In a statement, the National Bank of Greece said that it sees this latest addition as a part of its participation in the restructuring of Greece's banking system and the move will ensure deposits are guaranteed and the bank will continue to operate smoothly.
Meanwhile, with as many as 11 banks being absorbed one way or another by the four systemic lenders in the last few months, Greece's four main banks turn their attention to stress tests schedule for September.