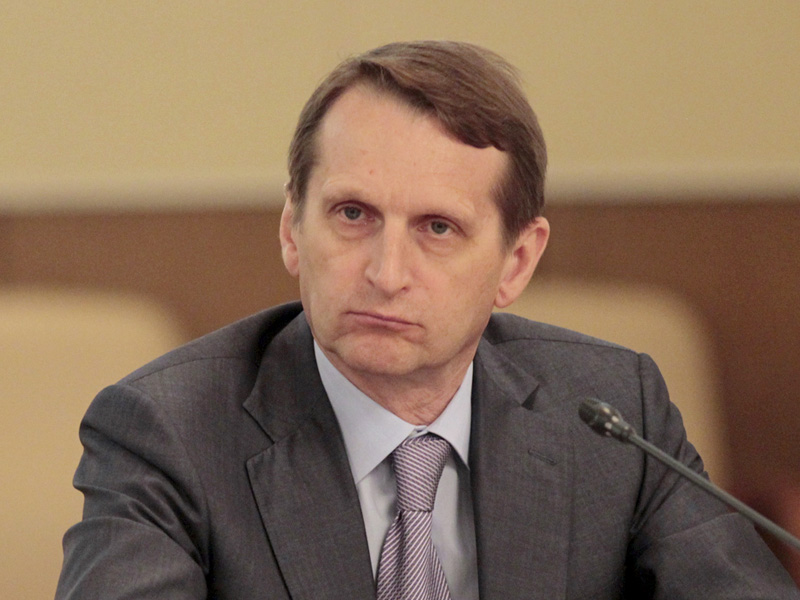 By Milos Mitrovic – Belgrade
Sergey Naryshkin, Russian Parliament speaker, has confirmed that United States had put pressure on Serbia not to allow his visit to Belgrade. However, Naryshkin has spent three days in Serbian capital, meeting on Monday president Tomislav Nikolic. He also held joint news conference with filmmaker Emir Kusturica decrying "anti-Russian hysteria" by the West.
Naryshkin is on US and European Union list of Russian President Vladimir Putin inner circle members that forbids their entry into Western countries due to Ukraine crisis. For that reason, he had to postpone visit to Bulgaria scheduled for May 6; Mikhail Emelyanov, Russian MP told RIA Novosty agency that US had put pressure on Serbia regarding the Naryshkin's visit.
Naryshkin said for Belgrade "Politika" daily he "regrets those who make decision on such sanctions". "I consider such decisions are unreasonable", he added.
Naryshkin couldn't specify who had made pressure on Serbia. "My Bulgarian colleague, president of Bulgarian parliament, sent me very kind letter asking me to postpone the visit. This is usual in diplomacy. Of course, I can assume that his suggestion was in connection with the so called EU sanctions", Naryshkin explained.
He also suggested that European countries which participate in "South Stream" project, Russian Gazprom investment aimed to provide gas supply, were under Western pressure. "This pressure is mostly made by our American partners", Naryshkin said.
"I have not any doubts that "South Stream" would be completed. The pipeline in Serbia will be constructed this year. As early as 2016 Serbia will have the significant budget income".
Naryshkin praised "independent" foreign policy of Serbia. "Serbian observers have taken part in Crimea referendum which is also a sign of very courageous policy of Serbian government. We are very thankful and we appreciate very much such a policy", Naryshkin concluded.