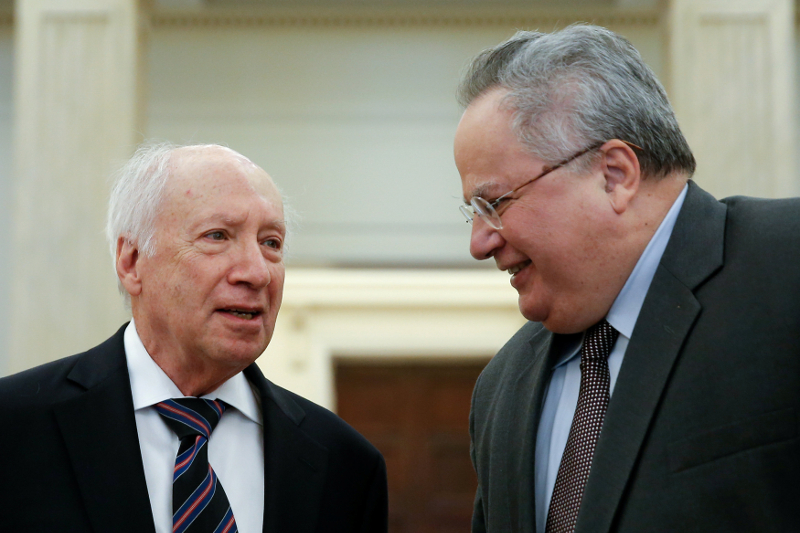 "We've been discussing these things for 25 years, everyone knows what the issues are. There is a time for decision-making and I think we're there (…) I think there is a momentum here and we should seize the momentum. Waiting, slowing things down doesn't make any sense here, doesn't make any sense in the northern neighbour, doesn't make any sense generally", was what the UN mediator Matthew Nimetz said while in Athens, on Tuesday, after his meeting with the Greek Foreign minister, Nikos Kotzias.
He referred to the long-lasting bilateral name issue which has been on the agenda of Greece and fYROMacedonia for over 25 years.
While talking to the press, Nimetz urged the two sides to seize this momentum and resolve the problem.
According to ANA-MPA, Nimetz reported a constructive discussion with Kotzias, during which the minister briefed him on the views of the Greek side "and some specifics on some of the ideas I have suggested".
"I know the [Greek] government is very sincere and energised to reach a solution to the problem. There are difficult issues; as we know this dispute has been around for a long time. I think there is a will [in Athens] and I believe also in Skopje to try to reach a settlement," Nimetz noted.
From Athens, the mediator will travel to Skopje. In his opinion and based on how things will look, the next phase of talks "should last a matter of weeks, 'and then we will re-assess it.'"…/IBNA
Photo: Reuters