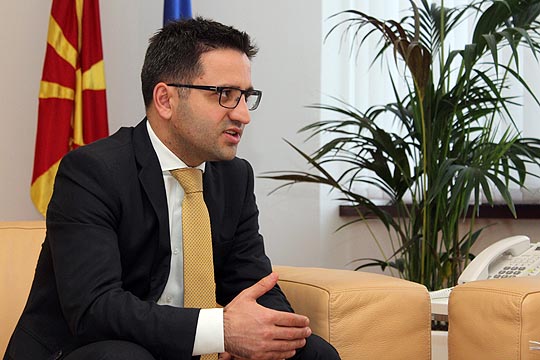 Skopje, February 18, 2014/Independent Balkan News Agency
By Naser Pajaziti
Government in Skopje says that the unresolved name dispute of the country and the efforts to become a member of EU and NATO, is an issue which affects not only one side, but all sides.
"The name dispute issue and Euro Atlantic perspectives of Macedonia are topics which concern all the citizens in the country, regardless of their ethnicity".
This was said today (18.02) by the Minister for European Affairs of FYR Macedonia, Fatmir Besimi, in his speech delivered in the Center for European Policies in Brussels.
Minister Besimi said that the country is committed to meet its obligations in the process of reforms, as well as to resolve open issues with neighboring EU member countries.
He talked about the work done so far by the government, where he underlined the reforms carried out so far, part of the High Level Adhering Dialogue.
Minister Besimi mentioned the reforms in the domain of the freedom of speech, changes in the Electoral Code where political parties achieved consensus and the reforms in the domain of the rule of law and compliance with fundamental rights; reforms in the public administration and economy of the market.
Meanwhile, minister Besimi also highlighted the implementation of the Draft Ohrid Agreement as a key priority for the government in strengthening the multi-ethnic character of the country.
Minister Besimi said that the government considers the good neighborly relations as very important and underlined the will of the government to overcome in a constructive way open issues with neighboring countries.
Speaking on relations with Greece, Besimi considered the visit of the Greek foreign minister, Evangelos Venizelos to Skopje as positive.
Mr. Besimi also stressed the importance of accelerating European integration as a prerequisite for stability and development in the region.
European Center for Politics is an independent organization engaged for EU integration which works based on the most contemporary European and global ways of policy making, securing prompt and quality information and analysis about the EU and global political agenda. /ibna/