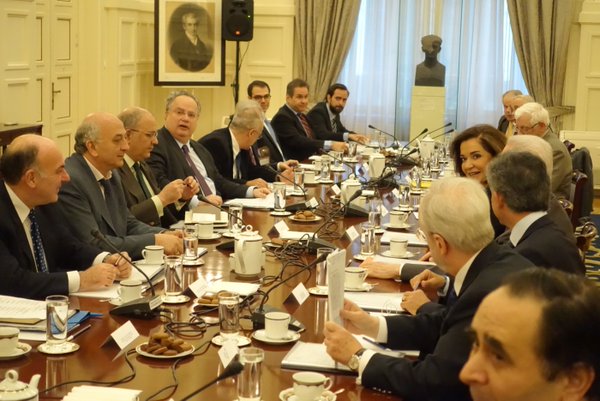 Athens, April 27, 2016/Independent Balkan News Agency
By Spiros Sideris
In a constructive atmosphere was held the meeting of the National Council on Foreign Policy, chaired by Foreign minister Nikos Kotzias.
The main issue of convergence of the National Council, which lasted about three hours in the presence for the first time by the side of New Democracy of Ms. Dora Bakoyanni, was the course of Greek-Turkish relations.
The continuous overflights of turkish aircrafts over the Aegean Sea and Greek airspace, had caused a series of intense demarches of protest by the Foreign ministry, but also the response of political parties.
The Foreign minister briefed the party representatives on all aspects of Greek-Turkish relations and presented in detail the positions of the Greek government.
Reportedly, Nikos Kotzias assured members of the Council, for the readiness of the ministry towards Turkey's provocations, within the framework of international legality, the close monitoring of issues with Turkey, as well as the open communication channel that exists between the two ministries. The Greek Foreign minister also made a reference to the red lines governing the policy of the ministry, regarding Greek-Turkish relations.
Mr Kotzias also referred to the relations between Greece and the neighboring countries of Southeastern Europe, in light of the actual quadripartite meeting in Thessaloniki, held upon his initiative on April 21-22, on the cross-border cooperation among Greece, Albania, FYROM, Bulgaria.
Finally, the FM presented to the participants the Foreign ministry's planning for the coming period, pointing out, inter alia, the greek initiatives to promote trilateral cooperation schemes and to organize a multilateral meeting, next September in Rhodes, with the participation of six European and six Arab states.
The far-right nationalist party Golden Dawn was not invited to the National Council on Foreign Policy.