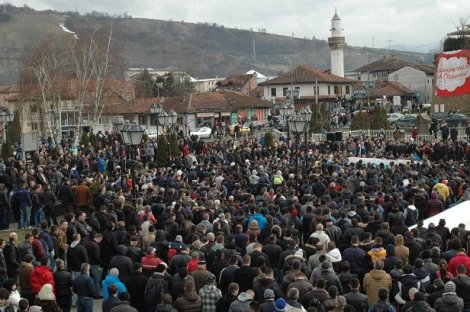 Belgrade, January 24, 2015/ Independent Balkan News Agency
By Milos Mitrovic
More than 5,000 people have protested against French magazine Charlie Hebdo in Novi Pazar on Friday. In south-western Serbian town, mostly inhabited with Muslims, manifestation organized to condemn allegedly offensive cartoons of the prophet Muhammad was ended without incidents.
Unlike some earlier occasions, the participants have not held any banners neither flags of some foreign countries or religious groups, Blic daily's correspondent reports.
Muslims are not those who should be blamed for the attack against Charlie Hebdo, the leaders of protest have said. However, they also said that the assault in Paris was not a terror attack but rather assassination.
"There are no any links between Islam and terrorism and those who had ordered the caricatures that have offended 1.5 billion Muslims should be blamed for the assassination in Paris.  If two or three Muslims have reacted inappropriately you can condemn them; but do not attack Islam or Muslims, otherwise you may have problems. What we have now in Europe will not pass that easy like it was the case in America with 9/11", the priest Irfan Malic said.
The organizers of the rally have said that attendance was "moral obligation" for all Muslims in Novi Pazar.
"Messenger Mohammad has showed the right way to the Muslims of Sandzak (south-western region in Serbia)and we were obliged to defend him from dishonoring and offending and to show him that we love him and that everyone of us is ready to sacrifice own life for him", Malic said.
He added that Muslims are opposed to any kind of terror and that they would not react on offends by offending. "Muslims do respect Jesus and Moses and if someone assault them we will be offended as well", Malic concluded.
Although "Muslim club" and local football club fans have called people to attend the protest, the participants say it was organized by believers.