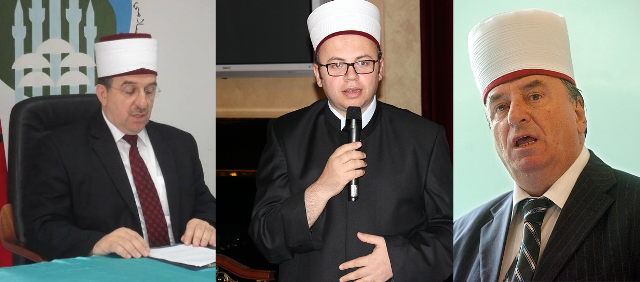 IBNA Special Report
Pristina, January 12, 2015/Independent Balkan News Agency
By Elton Tota
Islamic Communities in Kosovo, Albania and FYR Macedonia have strongly condemned the attack in the offices of the satirical magazine "Charlie Hebdo" in Paris, which led to the death of at least 12 people and some wounded. According to them, the Islamic faith works for peace and tolerance and doesn't recognize the notion of terrorism and similar barbaric acts.
The head of the Islamic Community of Kosovo, Mufti Naim, says that acts such as the one in Paris, are being perpetrated in the name of Islam, but according to him, they have nothing to do with the teachings of Quran.
"I condemn this barbaric, naive and immoral act which took place in Paris and which was perpetrated by criminals who have nothing to do with the noble Islamic principles and which are against the commandments of God in the Quran".
He said that people with low motives, who act on behalf of given groups, are misusing faith by hiding behind it for their crimes. Faith, said he, is about peace, tolerance and harmony between people, regardless of the country, language and color.
"Therefore, I, as a Mufti, like to take this chance to express my deepest condolences for what happened in Paris. I convey this pain to the French people and the families that lost their loved ones, the French government, which was beside Kosovo and Kosovo was in great need of the help of our European allies and USA".
Albanian Muslim Community also condemned the killing of journalists in Paris, stressing that no killing can be based on the Islamic creed.
The head of the Albanian Muslim Community, Skender Brucaj said that journalists are attacked by terrorists because they speak the truth and try to remove the clouds of false ideologies.
"The media has great importance, because it informs the public and many people are not interested for the truth to be clear for the people, because they want people to be unclear on many things, since they fight for power and an evil cause. If people were clearer, then they would not have followers and they would not be able to manipulate other people. This perhaps pushes them to put pressure on the media and free speech. I believe that this is the cause. Perhaps there are articles on newspapers or caricatures that may have exceed the ethical limit as far as free speech is concerned; perhaps several Muslims are worried about the way their prophet has been depicted, but such action can never be a cause. Prophet Mohammed has encountered many hardships during the time that he preached. He was mistreated in an inhumane way, but has never reacted in the same form; he has always prayed for people to live in peace and understanding with each other", declared he.
Meanwhile Islamic Community in FYROM says that it's always been against the use of religion for criminal purposes.
The head of this community, Sulejman Rexhepi says that in the present days, criminals tend to hide behind religious motives.
"This is our opinion. Whether Christians or Muslims, those who try to hide behind these motives are manipulating, in order to meet their criminal aims", said he.
According to him, Islam always promotes peace and tolerance and never violent acts.
"This is why we strongly condemn these phenomena and call on all criminals, regardless of their color or nationality, to be brought to justice, because we're convinced that there's no creed in the world that would justify such actions. At the same time, we would like to send our condolences to the families of the victims and the entire French nation", reads the statement. /ibna/