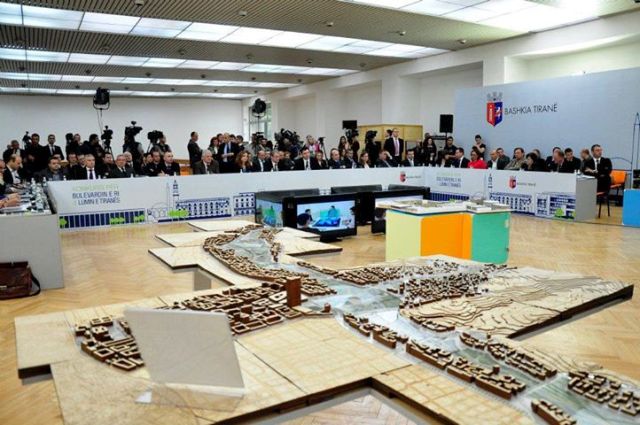 Tirana, July 25, 2013
Municipality of Tirana has launched the international tender for "The rehabilitation of Tirana river and respective civil works".
The submission of pre-qualification applications ends on August 2 for all interested applicants. "The works for the implementation of the northern boulevard project and rehabilitation of Tirana river will be funded by the loan agreement between the government of Albania and Abu Dhabi Development Fund, signed on April 21, 2013 with a value of 55.000.000.00 Euros", states the press statement of the municipality.
Based on the study carried out by "Grimshaw Architects", there will be an intervention in the system of Tirana river bed which is 8 km long. Recreational areas will be created alongside Tirana river. The implementation of this project foresees the construction of several bridges on this river, which will make connect the southern and northern part, creating at the same time opportunities of economic, social and cultural development.
Currently, Tirana river is a neglected area and in several parts it has turned into a place for the collection of wastes. The implementation of the project of the northern boulevard and Tirana river will develop one of the most underdeveloped areas in the city of Tirana. The urban area which will be impacted by this project is 14 square km.
The first phase of works for the boulevard which starts from the Train Station also includes a large underground parking. The tram will pass alongside the boulevard and it will connect the multi-modal terminal of passengers with "Mother Theresa" square. The House of Justice, new building of Municipality and other public institutions, business centers, etc, will be built on the new Tirana boulevard.
Besides doubling the length of the main boulevard of Tirana, this project will also offer more green areas in the city, making this the most important project for Tirana in the past 80 years. /ibna/