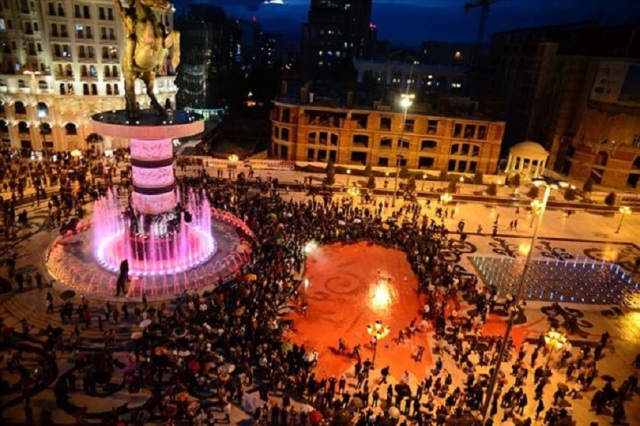 Skopje, 16 June 2016/Independent Balkan News Agency
By Naser Pajaziti
Civil society protests backed by the opposition continue. These protests are asking the resignation of the government, of president George Ivanov and for the work of the Special Prosecution not to be obstructed. Participants also demanded for protesters not to be prosecuted by state authorities, as some of them have been placed under house arrest and are expecting to face trial.
Protesters are demanding from the Constitutional Court to rule in support of the Special Prosecution. According to protesters, this prosecution is facing obstacles and other institutions are not collaborating with it.
Protesters advanced with their demands by issuing an ultimatum. They warned an escalation of the protest if the Constitutional Court doesn't rule until 18 June.
The protest was held last night in front of the government building, where protesters continued to throw paint balls against this building.
Zdravko Saveski, one of the heads of the opposition party "The Left", which at the beginning of this week was released from prison, said that justice must be restored along with the trust of the citizens on the institutions of the country.
"If this government continues to lead the country, then Macedonia will turn into a prison cell. All they want is to steal money from the people", Savevski said.
Savevski said that the government is stealing from the people and according to him, this is proven by the fact that a protester was fined with 15 thousand euros for causing damages to the president's building.
Demijan Haxhi Angelovski, one of the activists of the "Multicolor Revolution", says that in case their demands are not soon met, then according to him, the people will take the fate of democracy in their own hands.
Besides the protests of the past two weeks, "Multicolor Revolution" movement has also started to block key roads in Skopje.
So far, Prosecution has indicted 7 people for causing damages to the government building and for other acts, which the prosecution deems illegal. /balkaneu.com/