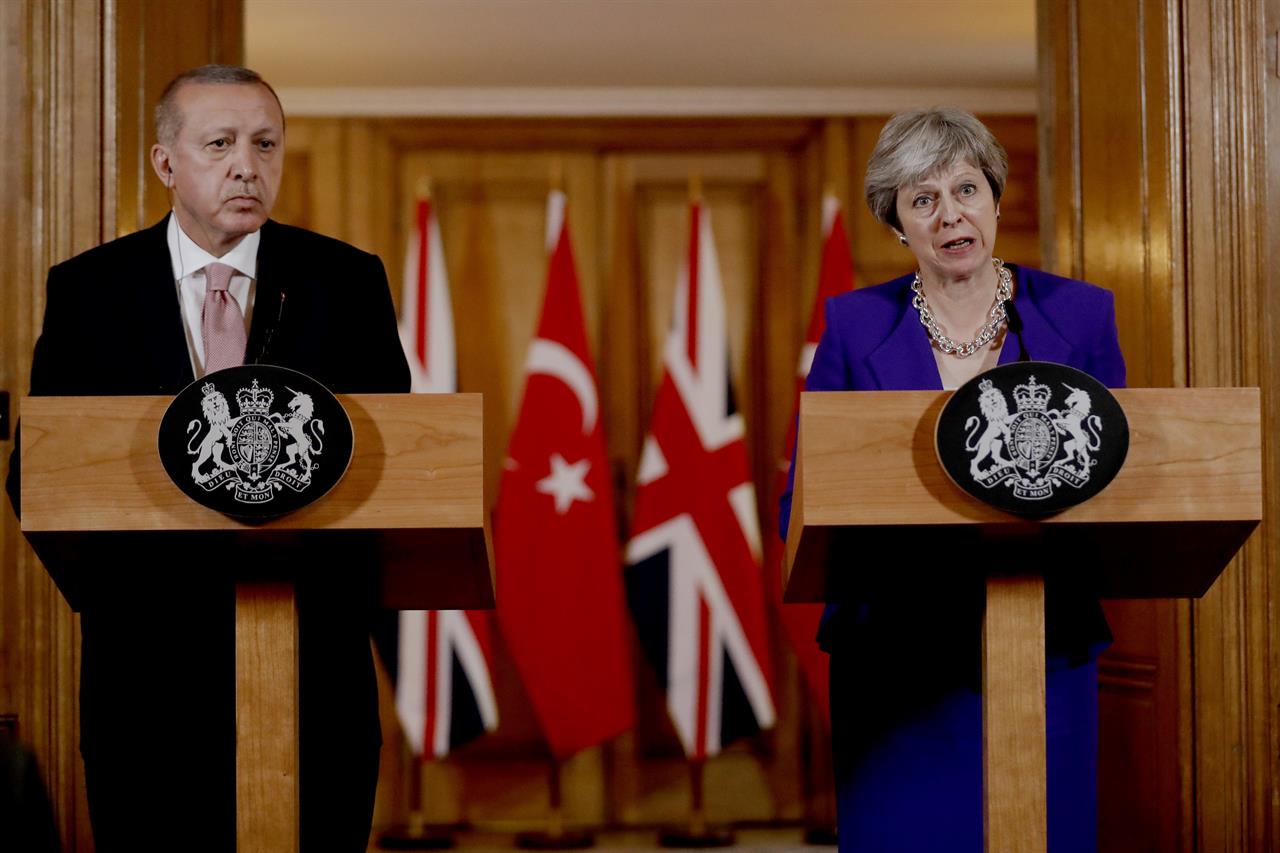 "We will never accept the U.S. attempt to move embassy to Jerusalem and to recognize Jerusalem as the Israeli capital", Erdogan said at the joint press conference alongside British Prime Minister Theresa May in Downing Street, London, following their meeting.
"Israel took these steps with a logic of 'I am might, therefore I am right'. Israel is the occupier there and it continues terrorizing [Palestinians]. History will not forgive you [US], we will see this reality; history will never forgive Israel, we will see this too", was Erdogan's strong message to Tel Aviv from London.
Theresa May called for an "independent and transparent investigation", Anadolu reads, to find out what happened in Gaza on Monday.
"The loss of life we have seen is tragic and extremely concerning. Such violence is destructive to peace efforts and we call on all sides to show restraint. There is an urgent need to establish the facts on what happened […], including why such a volume of live fire was used and what part Hamas played", the British premier added.
President Erdogan called on international community and the UN "to act without wasting time and stop this oppression" in Palestine, Anadolu notes and went back to the UN General Assembly vote on the U.S. decision of recognising Jerusalem as the Israeli capital, reminding that 128 countries rejected the American decision
But… they did not only agree as the issue of democracy also was in focus
While Erdogan spoke of the "might and right" in his reference to Israel and their stance over the protesting Palestinians, he left human rights in Turkey standing in the corner.
According to theguardian.com "Turkey's president, Recep Tayyip Erdoğan, has ended his three-day state visit to the UK by insisting that all the journalists locked in Turkish jails were terrorist criminals, ignoring a warning from Theresa May not to lose sight of democratic values as he sought to defend his country from 'the extraordinary pressures of a failed coup and Kurdish terrorism'."
Brexit is near and May wants to safeguard the post-Brexit economic ties with Turkey. Thus, the trade relations between the two countries were discussed, with the British premier appearing "eager to strike a post-Brexit free trade deal with Turkey" as the site noted. However, she is concerned to what extent the democratic values are being respected in Turkey or, better to say whether they are respected. As a matter of fact, May linked the future trade ties of the two with democracy.
"May said that while it was right that those who sought to overthrow a democratically elected government were brought to justice, 'it is also important that in the defence of democracy… Turkey does not lose sight of the values it is seeking to defend'.
"That is why today I have underlined to President Erdoğan that we want to see democratic values and international human rights obligations upheld." …. / IBNA