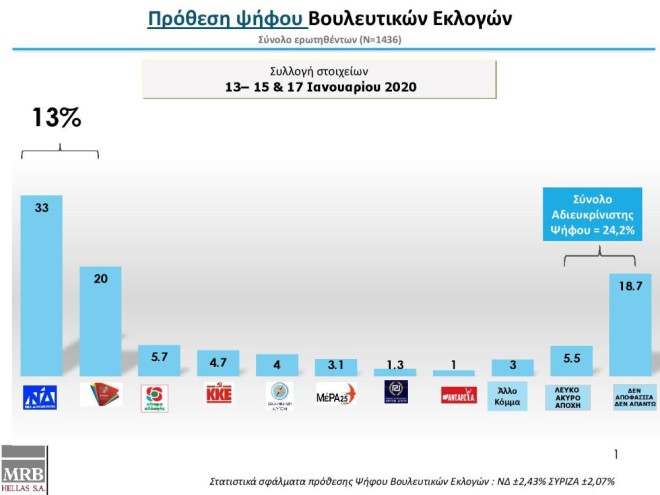 The latest MRB opinion poll published by STAR TV on Monday evening showed high popularity for the government and ruling New Democracy consolidating its lead over main opposition SYRIZA, since coming to power in the July 2019 general election.
More specifically, center-right New Democracy enjoys a 13 point lead over left-wing SYRIZA, with 33% over 20% respectively. In third place, the Movement for Change is on 5.7%, followed by the Communist Party on 4.7%, the Greek Solution on 4% and DiEM25 on 3.1%.
Additionally, Kyriacos Mitsotakis is seen as most suitable for the role of Prime Minister by 44.2% of respondents, with Alexis Tsipras on 24.5%. Mitsotakis is also the most popular political party leader overall, according to MRB. The PM is favored by 44.2%, with Alexis Tsipras on 30.5%.
The Movement for Change leader Fofi Gennimata is third with 21.9%, followed by Yanis Varoufakis on 20.6%, Dimitris Koutsoubas on 19.4% and Kyriacos Velopoulos on 19.1%.
The poll also shows general approval for the government's recent initiatives and policies. A total of 55.5% of respondents were positive towards the election of Katerina Sakellaropoulou as the first female President of the Hellenic Republic, with just 23% expressing a negative view.
Meanwhile, 56.9% said they were positive towards the premier's decision to reinstate the Ministry for Immigration.
In response to rising tensions between Greece and neighboring Turkey, 42.6% said the best way to resolve bilateral disputes was to refer to the International Court of Justice, while 28.8% said Athens should engage in direct talks with Ankara. A total of 21.3% of respondents said none of the aforementioned options would provide a solution.
Finally, the survey shows 54.6% believe an "incident" between the two countries is likely, with 39.2% of respondents saying there is no reason for concern./ibna