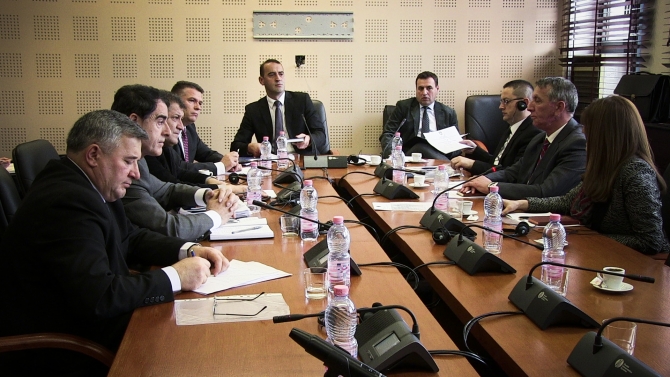 Pristina, January 26, 2015/Independent Balkan News Agency
By Elton Tota
Several weeks ago, a person entered Kosovo from Serbia with 13 kg of explosives, while police officers continue to patrol the road wearing bullet proof vests and the citizens do not have a clue what's happening with the security in their country. Members of the Committee for Security and Oversight of KSF in the parliament Kosovo, have called the minister of Interior, Skender Hyseni to report before the commission on the security situation in the country.
The member of this commission from the Incentive of Kosovo, Zafir Berisha said that the committee must know more about the case of the Serb citizen, Slobodan Gavric, who was caught with 13 kg of explosives in Pristina.
"I demand the Minister of Interior Skender Hyseni to be present here and report on several cases which have been made public on the media, such as the case of a citizen from Serbia who was caught in Kosovo. We have received more information from the media, but we don't know why there's an increased state of alert among security forces. We don't want to jeopardize inquiries, but we want to have a general overview of the situation in Kosovo", said Berisha.
Meanwhile, Nuredin Ibishi from the Democratic League of Kosovo, said that the minister must also be asked about the protest organized by opposition parties on Sunday and if the protest had been announced.
Meanwhile, the head of the committee, Daut Haradinaj, said that the request will be sent to the minister today and that it would be good if the chief of police was also called in a hearing.
"If you agree, I say that the minister should be called in next week. We will brief him about the points that interest us. I believe that that the police chief must also be present in the hearing, because he's more informed on what's happening on field. The concerns that we raised are reasonable".
Meanwhile, another topic that was discussed in the committee meeting was the law on eavesdropping.
Fadil Demaku from the Democratic Party of Kosovo expressed his concern as to why this law has been delegated to the integration committee.
Meanwhile, the committee concluded that it's necessary to visit the police station in the north of the country. The members of the committee said that visits must be held in the countries of the region in order to be acquainted with the best practices from the respective committees. /ibna/