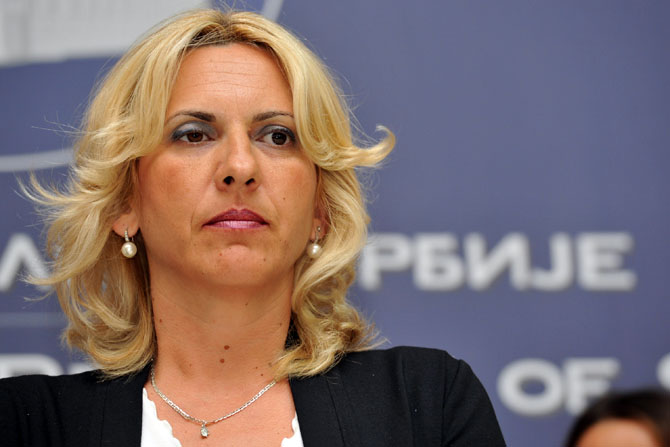 By Mladen Dragojlovic – Banja Luka
The Republic of Srpska political scene is once more shocked after several media released an, allegedly true, recording of phone conversation between the current Prime Minister and high ranked official of the ruling Alliance of independent social democrats (SNSD), Zeljka Cvijanovic, and an unknown woman.
In the illegally recorded conversation, Cvijanovic said that SNSD bought two delegates in RS National assembly because two others withdraw their signatures that were important for establishing of majority in Assembly.
"It is not a problem, we bought two others if they give up", said Cvijanovic on the conversation. Shortly after it was published, Cvijanovic said that it is a fake and called it a scandal. She emphasised that she never said something like that and called on the judiciary institutions in RS to investigate the case.
Still acting Minister of interior affairs RS, Radislav Jovicic confirmed on press conference in Banja Luka at Monday that police institutions are investigating the case.
"Police agencies took all the audio material from internet media, where it was published, and will put it in the report for the Prosecution office. The prosecutor responsible will decide on the further steps, judge which criminal act was committed and, depending on that, order an investigation and authentication of the record. I assure you that police will make a responsible and complete investigation in this case", said Jovicic to media.
He added that Cvijanovic was the first person who reported a criminal act against her integrity and the integrity of the function of the Prime Minister.
Her party, SNSD, issued a press release saying that this recording represents a "clear attempt of parties which lost the elections to reach a majority of 42 delegates in National assembly at any price".
In the press release, SNSD said that parties gathered in coalition called Alliance for changes are trying to deceive the public and present themselves as "defenders of democracy".
"We must remind the people that these parties signed an agreement on joint activities with parties from the Federation of BiH. This agreement harms the interests of the Republic of Srpska", said SNSD in its statement.
It is interesting that the parties of Alliance for Changes, which are currently on the opposition in RS Assembly, also demand the authentication of recording because, as leaders of these parties said, it is the evidence that SNSD and its coalition partners, Socialist Party and Democratic Peoples Alliance, are unfair and far from democratic.
"People's Democratic Movement, as a member of the "Alliance for Changes", hopes that MPs who bargain with their mandates, and with them the will of the voters, will think twice before committing this hard criminal act", said the party in its press release.
For other members of this Alliance, there is no doubt that SNSD leaders are trading with other parties and buying mandates necessary for majority in the National Assembly.