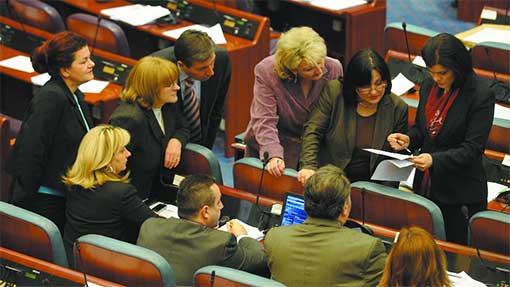 IBNA Special Report/ Fresh elections with old names for the parties of current majority. New names in the opposition lists. Political analysts comment the lists for MP, stressing that there are new elements within them, but there are also names who have been consumed in the political arena. IBNA hears from Zdravo Savevski, Alajdin Demiri
By Naser Pajaziti
In the former Yugoslav Republic of Macedonia, political parties' lists for MP are being dominated by old names and veterans of the political arena. Almost all the names in the lists for the 6 constituencies are people who have served as MPs in the last term and several others have served as senior state officials.
Macedonian party of prime minister Nikola Gruevski, VMRO –DPMNE has included ministers of the departing government in the list, but also other people holding important state offices. The Albanian party which is part of the government, BDI (Democratic Union for Integration) has included on this list almost all MPs who have run in the last term.
The biggest opposition Macedonian party, LSDM (Macedonian Social Democrat League) has included many new names on the list.
Macedonian parties such as LSDM, Alliance for a Positive Macedonia and GROM have also included Albanians in their lists.
Meanwhile, this is not the case with the Albanian opposition party, PDSH (Albanian Democratic Party), which has included names that have served so far as MPs.
Meanwhile, Albanian parties have also included members of the Turkish, Muslim and Roma community on their lists.
Political analysts comment MP lists, saying that they also contain novelties , but also consumed names in the political arena.
"VMRO-DPMNE of prime minister Gruevski doesn't have any novelties in the list. They are known names or senior officials, but also current MPs. This party has its strategy and through these political figures, it aims to win these elections, like it has done so far. Meanwhile, LSDM and Macedonian opposition has offered new figures and candidates who will aim to win the votes of people who haven't decided who to vote yet and which are numerous", says political analyst, Zdravo Savevski.
Political analyst and university professor, Alajdin Demiri says that Albanian parties too follow the logic of running for parliament those people who are part of the leading structures, by not opening for new figures.
"There's no new approach as far as MP lists are concerned, but also in the political platform. This has now turned into a routine, where the owner of the party or leaders decide who will be on the MP candidate list. This way, strong party clans are created", says analyst Demiri for IBNA.
14 political parties will race in the April 27 early parliamentary elections, but the main battle will be held between VMRO-DPMNE and LSDM in the Macedonian block and BDI and PDSH in the Albanian block. The elections will take place in 6 constituencies. Each constituency will produce 20 MPs. /ibna/