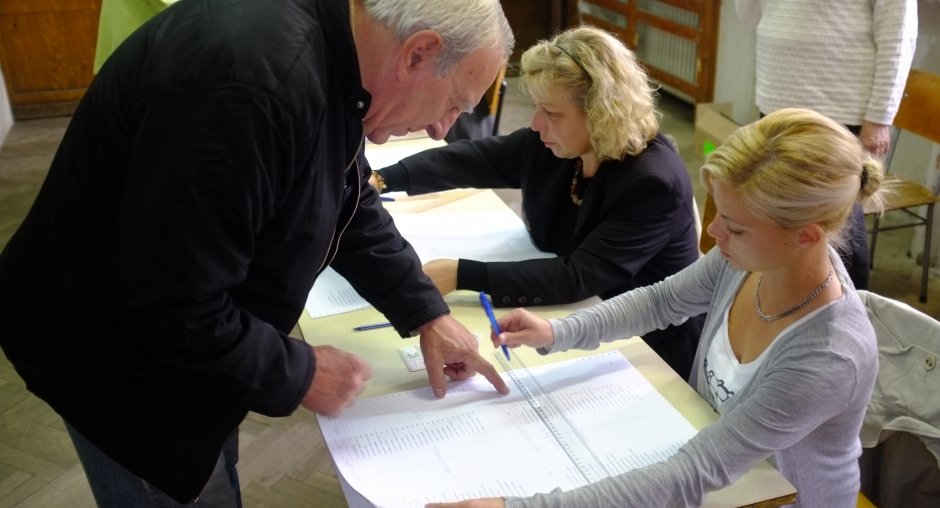 By Clive Leviev- Sawyer of The Sofia Globe
The Movement for Rights and Freedoms, the party led and supported in the main by Bulgarians of Turkish ethnicity, won close to 45 per cent of the votes cast abroad in Bulgaria's October 5 parliamentary elections – in turn, with about half of all votes cast abroad having been in Turkey.
This emerges from figures released by the Central Election Commission and the Foreign Ministry on the morning of October 6.
In Bulgaria, Boiko Borissov's centre-right GERB won the single largest share of votes, 32.7 per cent with 97.2 per cent of votes counted. GERB's result was about double that of the Bulgarian Socialist Party, which had its former ruling axis partner the MRF hard on heels – with some observers holding that the MRF might even overtake the BSP to place second in the elections.
Looking solely at voting at polling stations outside Bulgaria, the MRF – with close to 95 per cent of these votes counted – got 44.91 per cent, GERB 27.37 per cent, the centre-right Reformist Bloc 10.89 per cent, the ultra-nationalist Patriotic Front 3.68 per cent and the BSP 2.55 per cent. The rest was spread among five other minority parties.
On October 6, the Foreign Ministry said that with voting closed in 58 countries, 131 590 Bulgarian citizens had voted in these countries.
The largest single number was in Turkey, 60 090. This was followed by Spain (12 959), the UK (13 855), Germany (9823), Greece (4582) and Belgium (2943).
The fact of the majority of Bulgarian election polling stations abroad being in Turkey was seized on as an issue by the country's ultra-nationalist and populist parties.
The MRF showed improved results from previous recent elections, but it remains unclear what form, if any, of co-operation it will have with a GERB government – if one is even formed.
Borissov would not be able to form a government solely with the Reformist Bloc because the two combined do not have enough seats. In any case, the Reformist Bloc is taking a hard-to-get approach, with at least one of its leaders still insisting that the bloc would not serve in a cabinet in which Borissov is prime minister.
On October 6, senior party figures said that GERB would attempt to form a cabinet supported by the Reformist Bloc and the Patriotic Front, a proposal that at first glance seems improbable.