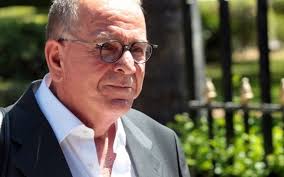 Athens, May 30, 2016/Independent Balkan News Agency
By Spiros Sideris
Deputy Migration Policy minister, Yannis Mouzalas made an inspection in Idomeni, after the evacuation of the camp.
As stated to AMNA the president of the Local Community of Idomeni, Xanthoula Soupli, the minister thanked the residents for their patience during the period the refugees remained in their region.
Mouzalas assured them that the situation in Idomeni will not be repeated and that soon the remaining informal camps nearby will be evacuated, since new positions in accommodation centers are continuously being created.
Soupli thanked the minister for making the evacuation a reality and asked for the residents of Idomeni to be compensated, the fields whom were used over the last period by the refugees as hospitality areas.
Police uncovers criminal networks that provided with false travel documents through courier
Two criminal networks with the same methodology, using a courier to send false travel documents to their "customers", were busted by the Police after months of investigation of the Attica Foreigners Directorate, in cooperation with European police services and Europol, within the framework of the operation with the code name "Hermes", of the Empact program.
Sixteen persons were arrested, 8 of them Bangladeshi nationals, 6 Sudanese nationals, a Pakistani and a Syrian, as members of a criminal organization, while a fully equipped laboratory for the forgery of travel documents was uncovered in Athens. According to the police, 48 even immigrants residing in Greece and 51 people living in different countries are being accused.
Members of the network facilitated the entry – exit and residence of third-country citizens in Greece and in the European Union countries and were moving counterfeit documents using courier companies according to the announcements of ELAS. Both criminal organisations had as a reference point for their illegal activities the center of Athens, with the Sudanese using a mobile phone accessories store as cover.
Their pay for false documents varied depending on the quality, type and country of origin of the document, ranging from 100-3000 euros.