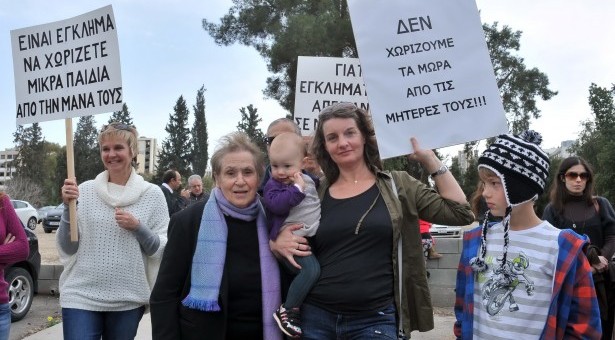 By Kyriacos Kyriacou-Nicosia
Three mothers from third countries, and a father of a 16-year old Chinese girl- all illegal immigrants and asylum-seekers- were released on Thursday from custody, after instructions given by the Minister of Interior Sokrates Hasikos. The four illegal immigrants were held for many months in prison-like conditions in "Menoyia police detention", while waiting for their case to be evaluated. They were set free, after the President of the non-government organisation "Cyprus Stop Trafficking" Androulla Christophidou Henriques warned that she will go on a hunger strike, outside the Ministry of Interior.
Children in friendly houses
Socrates Hasikos gave the order to release a Chinese mother of a three-year old child and a mother of an 18-month old baby from Cameroon. The fathers of the two children, a Bulgarian and a Romanian, are not currently in Cyprus and the children were left in friendly houses. A third woman from Somalia was also released from custody.
Cyprus is often accused over its immigration policy and the way it treats asylum seekers. The UN High Commission for Refugees in Cyprus has asked for the problem that was raised by Amnesty International regarding immigrants, in a report that was published on Tuesday, to be resolved promptly.
"The administrative detention of asylum-seekers as presented in the new Amnesty International report on Cyprus, published yesterday, has been of concern to UNHCR and requires immediate resolution", is stated in a press release by UNHCR.
It continued saying that "UNHCR`s position is that seeking asylum is not an unlawful act and, as such, the detention of asylum-seekers on account of their unauthorised entry or presence in the country of asylum should in principle be avoided and used only in exceptional circumstances", adding that "detention may only be resorted to where it has been determined on a case-by-case basis that it is necessary, reasonable and proportionate to the legitimate objective, and alternatives to detention need to be considered first in each case".
They enter through occupied north
On Tuesday, Cyprus' Minister of the Interior, Socrates Hasikos, had rejected as unfounded the allegations Amnesty International has made concerning the issue of "Cypriot immigration authorities routinely detain hundreds of migrants and asylum-seekers in prison-like conditions for extended periods while awaiting deportation".
Illegal immigrants in Cyprus mostly come from Asia and Africa. Cyprus along with Malta and other Mediterranean EU countries is faced with large numbers of illegal immigrants. Most illegal immigrants enter Cyprus` government controlled areas through the Turkish occupied north. Turkey, which is the only country in the world which refuses to recognize the Republic of Cyprus, invaded against Cyprus in 1974 and since then Turkish military troops illegally occupy 37% of Cyprus` territory (in the north).
Turkey refuses to sign a readmission agreement of illegal immigrants with Cyprus, since Ankara says it does not recognize the Republic of Cyprus.