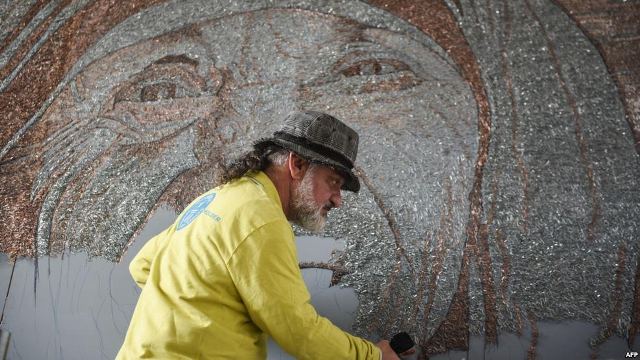 The artist from Albania, Saimir Strati is working on a mosaic with the portrait of the great humanist, Mother Teresa, through which he aims to break yet another record at the Guiness book of records.
The portrait is being worked in the Museum of Kosovo with wire clips in a surface of 10 square meters.
According to him, the idea for this form of mosaic stems from the displacement of refugees and the crossing of barbed wire in different borders.
"Once I've seen on TV massive displacements of refugees from the Middle East as a result of the war. Somewhere, in a European city, there were barbed wires that didn't allow them to move on. At that point I thought that only mother Theresa could save these people and I decided to work on this", he said.
Strati is thinking on using 1 million and 500 thousand white and brown wires, to finish the mosaic which will have a 3D appearance.
For this, Strati is confident that he will break another Guiness record.
The holder of 9 Guiness records, Saimir Strati says that the mosaic will contain the famous phrase that Mother Theresa used: "Peace can only come with a smile". /balkaneu.com/