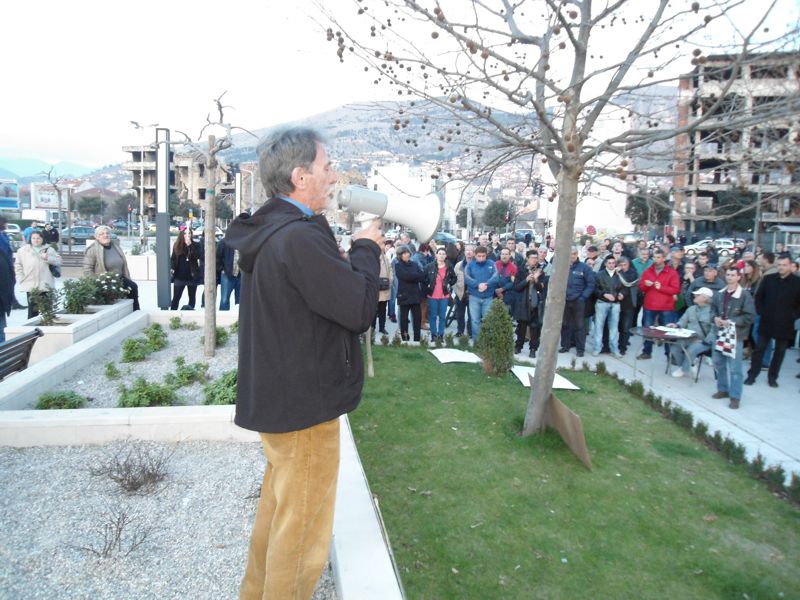 By Medina Malagic – Sarajevo
In continuation of the protests that have become ubiquitious in cities throughout the Federation of  B&H, citizens in Mostar yesterday gathered, as usual, on Spanish Square. Several dozens of people gathered to protest on a rainy day in the city.
At one point during the protest, one of the organizers, Muharem Hindic Musica took the lead and asked protestors where they wanted to go to protest, and afterwards a protest column was formed. They walked through the streets holding hands together in the air to indicate to police that they are were not armed and that the protest has only peaceful intentions. However, the police cordon was formed, and protestors were prohibited from continuing the protest in that direction duet to the police blockade. According to witnesses, Musica attempted to pass, but was taken by the police and placed inside the van.
In a video that was posted to youtube and which has since gone viral, police officers, armed with shields, formed a solid cordon. Behind the cordon, a police van can be seen, with several police officers surrounding the van but obstructing the view inside the van. In front of the police officers stood the protestors, who were relentlessly pressuring the police officers to allow them to see what was taking place inside the van, whether the police was beating up Musica. Some protestors began to shout, imploring people to continue filming to show what the criminals were doing, that police are violating the law once again, and the police officers continued to be levied with questions on the reasons for hiding their own ID and for not allowing citizens for peacefully protesting through their own city.
The Spokesperson of the Herzevovina Neretva Canton Srecko Bosnjak asserted that tlithe allegations by protestors and the media headlines on police brutality were false, and that excessive force was not used in the arrest of Muharem Hindic Musica, one of the organizers of the Mostar protests. Spokesperson Bosnjak alleged that the cause for the arrest was an attack on an officer, and that Musica is currently detained where he awaits a criminal investigation.
The lawyer of Musica, Semsa Droce said that she was not allowed to visit her client, despite having the legal right to do so. She also received information that Musica was beaten up by police at the protest, but was not able to confirm this since police prevented her legal right from seeing her client.
Protestors in Mostar, just like protestors throughout cities in Bosnia Herzegovina, have been taking to the streets for over a month on a daily basis to protest the dismal economic and social conditions in the country.