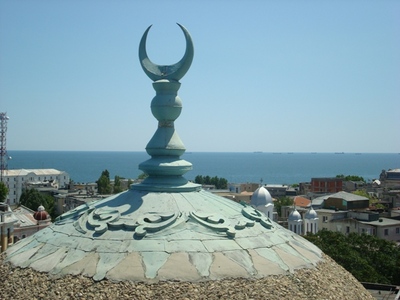 Bucharest, April 4, 2016/ Independent Balkan News Agency
By Irina Stoica
While most countries in the region host mosques in their capitals, Romania is still dwelling on a similar project that's getting a mixed view from politicians and civilian as well. Still, a mosque will be built in Bucharest, as it offers several guarantees for security, sources within the Presidential Administration stated recently.
"We do not reject the idea of a mosque in Bucharest because it offers several security guarantees. The timing is bad due to the context regarding immigrants and terrorism," the sources added.
Recently, on March the 23rd, the topic was on the agenda during Romanian president Klaus Iohannis visit in Turkey, the country that offers financial support for the project. Turkish President Recep Tayyip Erdogan stated that building a mosque in Bucharest would be "the most beautiful expression of the dialogue and solidarity between the two countries."
The project itself is not new. First discussions started in 2004, while Recep Tayyip Erdogan was prime-minister. He has asked his counterpart at the time, Adrian Nastase, to allot a terrain to build a mosque. Nastase agreed, and asked in return for a piece of land where Romanian authorities would build an orthodox church in Istanbul, according to presidential chancellery sources. At that time, the Romanian Orthodox Church did not welcome the idea of having a Romanian church in Istanbul and advanced the idea of erecting a smaller edifice, such as a chapel or a pilgrimage destination. The Turkish authorities kept their part of the deal. They allowed for a church to be built and identified six plots of land outside of the center of Istanbul that were eligible for the project. The Romanians have not yet chosen the site.
In 2011, former Romanian President Traian Basescu met with Erdogan and gave the green light for the mosque to be built in Bucharest. In 2015, the former government led by Victor Ponta, adopted the decision allocating a plot of land near the Romexpo exhibition venue, for the mosque to be built on. "Basescu knew very well what taking a commitment on behalf of the state entails," the Presidential Sources state.
"Critical voices can be heard in every country. Right now, our colleagues are working to obtain the permits. We have a completed project, but currently we want to develop it," Erdogan said.
There are around 10,000 Muslims in Bucharest, but the vast majority of the citizens reject the project. Most of them fear that the mosque will become a place of recruitment for radical Islamists and a breeding ground for terrorists.
The mosque would host 1,000 worshipers, an Islamic library and a community center on 37,000 square feet of city-owned land in northern Bucharest. The land is being provided for the project for free, with Turkey financing the construction. The property is valued at around $4.2 million. Turkey has already pledged financing for the campus, which planners hope to open in three years.